Bundy disciple gets 68 years in connection with armed militia standoff in Nevada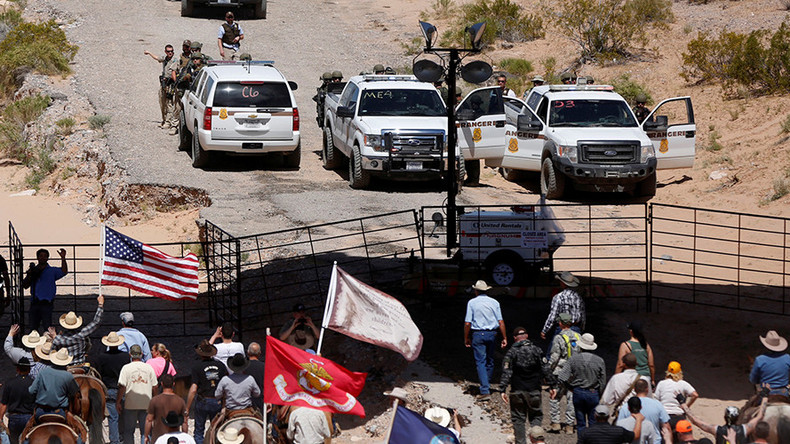 A man has been sentenced to 68 years behind bars in relation to a standoff in Nevada, which came to be led by infamous rancher Cliven Bundy. He is one of two men who has been convicted in the first of many trials related to the armed standoff.
Gregory Burleson, 53, of Phoenix was found guilty of eight felony counts in April, which included charges of obstruction of justice, threatening and assaulting federal officers, interstate travel in aid of extortion, and firearms offenses related to a crime of violence. US District Judge Gloria Navarro presided over the case.
One co-defendant in the case, Todd Engel, was also found guilty by the same jury and is awaiting a September trial. Seventeen defendants in all are implicated in the Bundy ranch standoff, Reuters reported.
Burleson is the first defendant to be tried, convicted and sent to prison in this case. Bundy and his sons, along with two other groups, are to be tried later this year and next.
Bundy's ranch, which is near Bunkerville, Nevada, is 75 miles northeast of Las Vegas. The uprising that sprung up from the ranch started with a dispute involving federal agents seizing the rancher's cattle when Bundy refused to pay government fees for grazing his livestock on government lands.
The standoff that resulted from the incident became one of the more widely-reported events in the country's recent uptick of right-wing militias fighting the government for control of public lands.
In April, four others were granted a mistrial and are being re-tried in Nevada. Two others who were charged in the case pleaded guilty separately - one got seven years in prison, the other is to be sentenced in January, according to Trisha Young, a spokeswoman for the US Attorney's Office in Las Vegas.
You can share this story on social media: