1 killed, 7 injured after Ohio State Fair ride malfunctions (GRAPHIC VIDEO)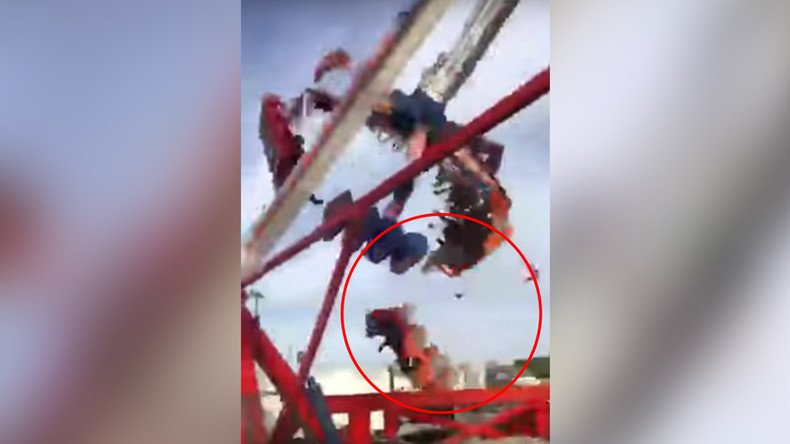 An 18-year-old man has died and at least seven other people aged 13 to 41 are injured, some critically, following a disaster aboard the Fire Ball "thrill ride" at the Ohio State Fair.
As many as five of the injured are in critical condition, according to local media. Columbus Fire Battalion Chief Steve Martin confirmed that the deceased victim was thrown from the ride, Fox News reported. He was 18 years old and died on impact 50 feet from the ride after being thrown into the air at about 7:20pm Eastern on Wednesday, according to the Columbus Dispatch. The fire department confirmed that an 18-year-old was killed, WTTE reported.
The Ohio State Fair opened Wednesday and is set to last until August 6, but other rides were shut down Wednesday.
The ride was inspected multiple times, including by a third party, the Dispatch reported. Recently, inspectors had been delayed in their work by storms and flooding. There were 11 rides that were closed, as they had not yet completed inspection.
"The rain slowed us down a little bit. Usually a lot of this stuff would be up a lot faster," inspector Ron Dean told the Dispatch.
The Fire Ball holds 24 passengers and swings them 40 feet above the ground while spinning them at 13 revolutions per minute, the Dispatch reported based upon ride enthusiast websites.
"It's a very tough day. It's a very tough night for the people of our state because of the loss of our citizens," Ohio Governor John Kasich (R) told reporters. "We will get to the bottom of this. We will investigate it. There will be complete transparency."
A video purportedly captured on the Snapchat app was distributed across social media Wednesday night.
WARNING: GRAPHIC VIDEO
You can share this story on social media: