Wasserman Schultz's IT aide arrested as he tried to leave the US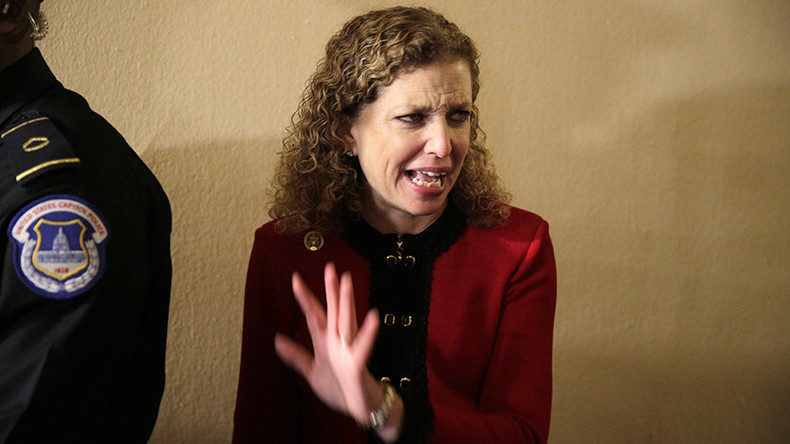 A House IT aide who had access to emails and files from dozens of lawmakers has been arrested on bank fraud charges while attempting to leave the country. The FBI also reportedly found smashed hard drives in his home.
Imran Awan, 37, an information technology aide who worked for dozens of lawmakers in the House, including Rep. Debbie Wasserman Schultz (D-Florida), former chairwoman of the Democratic National Committee (DNC), was arrested for bank fraud as he was boarding a plane on Tuesday at Dulles International Airport, according to Fox News.
Feds/USCP bust Hse IT staffer Imran Awan & charge him with multiple counts of bank fraud as part of Hse IT procurement scandal

— Chad Pergram (@ChadPergram) July 25, 2017
Feds/USCP picked up Imran Awan at Dulles Aiport last night as he was "trying to leave the country." Has been arraigned. Surrendered passport

— Chad Pergram (@ChadPergram) July 25, 2017
The criminal complaint, obtained by Politico, states that Awan was arrested Monday night while trying to board a flight to Lahore, Pakistan. He had a return ticket dated January 2018.
FBI agent Brandon Merriman, the special agent who wrote the complaint, said there was probable cause that Awan attempted to defraud the Congressional Federal Credit Union (CFCU) by obtaining a $165,000 home equity loan for a property that he rented out in violation of the credit union's policies.
The money was later allegedly included as part of a wire transfer to two unnamed individuals in Faisalabad, Pakistan.
Bill Miller, a spokesman for the US Attorney's Office for the District of Columbia, told the Daily Caller that Awan "was arraigned today in the U.S. District Court for the District of Columbia on one count of bank fraud, in violation of 18 U.S.C. § 1344."
Miller went on to say that Awan did not plead guilty and was released "pursuant to a high-intensity supervision program," which requires Awan to wear a GPS monitor, remain confined to a 50-mile radius around his home, abide by a curfew, and surrender all of his passports.
Awan is scheduled to appear in court for a preliminary hearing on August 21. The charge he was arrested for carries a fine of up to $1 million or a prison sentence of up to 30 years.
Collectively, Awan, his wife, and four of his relatives reportedly made $4 million working for more than two dozen House Democrats since 2009, according to the Daily Caller. However, they were later banned from the Capitol network in February after becoming suspects in a criminal investigation into theft and IT abuses.
After the criminal probe was revealed, Awan moved out of the house involved in the fraud charges. The new tenants said they found "wireless routers, hard drives that look like they tried to destroy, laptops, [and] a lot of brand new expensive toner," in the house, according to the Daily Caller.
"It was in the garage. They recycled cabinets and lined them along the walls. They left in a huge hurry," the tenant said. "It looks like government-issued equipment. We turned that stuff over."
The tenant said that Awan came by the house multiple times, asking him for the hard drives, even threatening to sue the renters for stealing them.
"It was unbelievable. I don't know where they get off thinking they're going to sue us for items we have no obligation to hold onto," the tenant said.
In March, Awan's wife, Hina Alvi, and their three children were stopped at Dulles International Airport as they were boarding a flight to Lahore, Pakistan. The criminal complaint states that the children had been "abruptly taken out of school" without notifying the county school system. US Customs and Border Protection conducted a search of Alvi's "numerous pieces of luggage," and found she was carrying $12,400 in cash.
Alvi and her children were all permitted to board the plane. Federal agents said that while his wife has a return ticket for September, they do not believe she has any intention of returning to the US.
Wasserman Schultz kept Awan on staff and blocked the Capitol Police from searching a laptop that had been confiscated in connection with their probe into Awan, according to the Daily Caller. On Tuesday, a David Damron, a spokesman for Wasserman Schultz said Awan had been fired after being arrested.
"Mr. Awan previously served as a part-time employee but his services have been terminated. No charges, evidence or findings from the investigation have been formally shared with our office, so we cannot comment on them," Damron said, according to Fox News.