Trump tells reporter to be 'quiet' for asking healthcare question at photo op (VIDEO)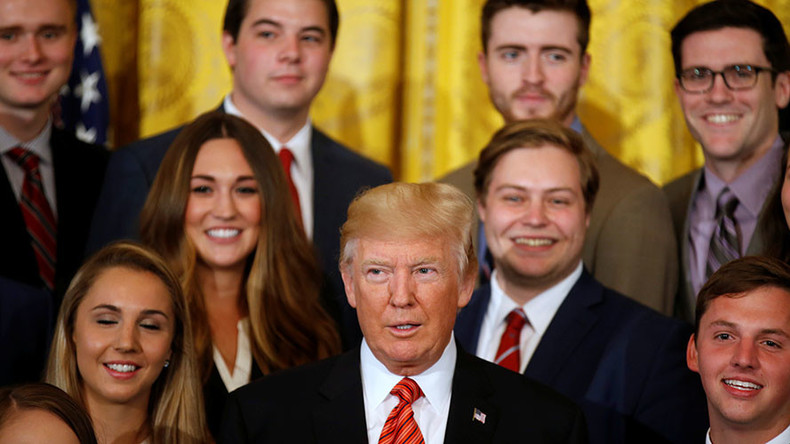 Journalists are criticizing President Trump after he rolled his eyes and told a reporter to be "quiet" when he was questioned about Attorney General Jeff Sessions and healthcare during a White House photo op.
Trump was posing in front of media for a photo with White House interns Monday when he was asked by Associated Press reporter Catherine Lucey if he thought Sessions should resign, to which he rolled his eyes.
When Lucey followed up by asking if the president had a message about healthcare, Trump simply replied, "Quiet!" much to the amusement of the laughing interns.
READ MORE: 'Drain the Sewer': Trump blasts Russia collusion allegations
Trump then turned to the hysterical group to tell them reporters are "not supposed to do that."
"You see, they're not supposed to do that, but they're doing it. But they're not supposed to. She's breaking a code, but they don't care," he continued. "They don't care about breaking codes!"
In addition to the president's condensed lesson in journalism, the group's overwhelming lack of diversity did not go unnoticed on social media.
READ MORE: Democrats offer new explanation for why Trump won – and it's not Russia
Earlier Monday, Trump called Session "beleaguered" in a tweet that questioned why the US attorney general and Congress aren't "looking into Crooked Hillarys crimes & Russia relations?"