Tranche of JFK assassination records includes testimony from KGB defector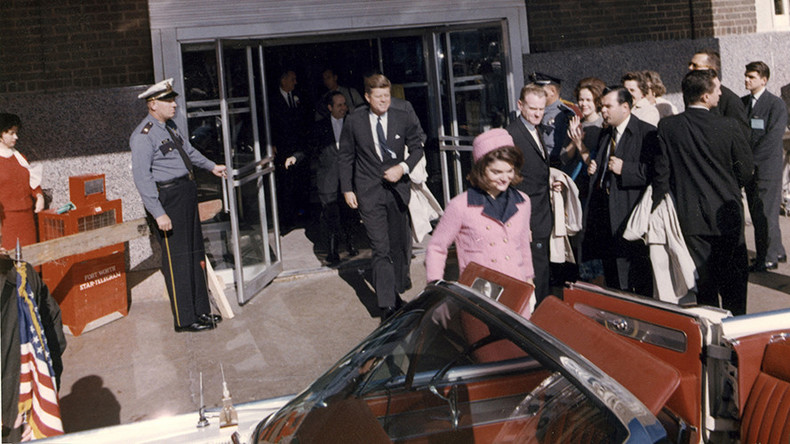 Nearly 4,000 previously withheld or censored documents about the 1963 assassination of US President John F. Kennedy have been released by the National Archives in Washington DC.
The trove of 3,810 documents and 17 audio files was released on the US National Archives website Monday. It includes information collected by the FBI and CIA in the aftermath of the president's shooting in Dallas, Texas.
READ MORE: Britain wanted to threaten Saddam's Iraq with chemical weapons
Among the release are recordings of KGB defector Yury Nosenko, who was interviewed in 1964 about assassin Lee Harvey Oswald's time in the Soviet Union, the National Archives said.
Of the newly released documents, some 441 have never been allowed in the public domain, while the remaining files had been partially redacted.
In accordance with the JFK Assassination Records Collection Act 1992, all documents on the killing must be released by the end of this year.
Kennedy was gunned down while traveling in a motorcade through Dallas on November 22, 1963.
The shocking assassination was filmed by an amateur cameraman, Abraham Zapruder, and shows the moment the president was shot in the neck and head.
It was later determined by the Warren Commission that former US Marine Lee Harvey Oswald fired the fatal bullets from a position in the Texas School Book Depository.
As he was being transferred from a Dallas police station, Oswald was gunned down by nightclub owner Jack Ruby. The shooting was just two days after the president's assassination.
The assassination has spawned countless conspiracy theories because of all of the seemingly strange coincidences, including the killing of Oswald and the secrecy surrounding the work of the Warren Commission.
The most popular of these theories is perhaps the idea that there was a second shooter, who shot Kennedy from a nearby grassy knoll.
Some think he was killed by disgruntled CIA agents, while others subscribe to the belief that he was killed at the behest of Vice President Lyndon B. Johnson.