Special ops helicopter rescue of WWE co-owner captured on camera (VIDEO)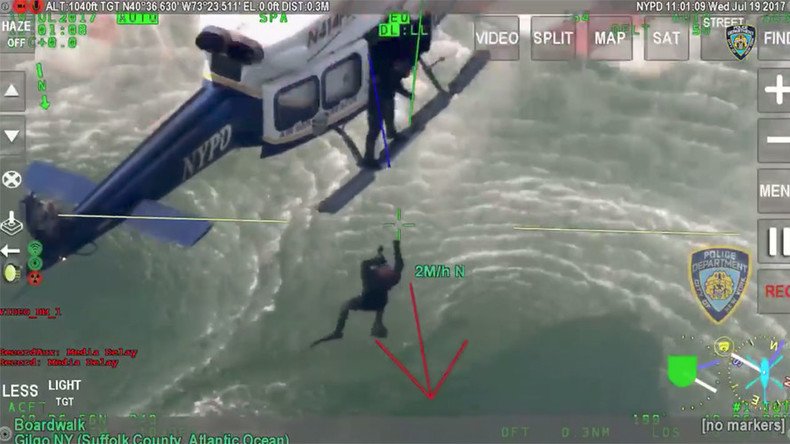 The NYPD Special Ops team released footage of their rescue operation after a helicopter carrying the son of WWE Chairman and CEO Vince McMahon was forced to make an emergency sea landing in the sea off New York Wednesday.
"First off, I'd like to thank the pilot Mario, he did an amazing job, he was cool under pressure, I couldn't have been in better hands. He explained everything as it was happening," Shane McMahon, 47, told reporters as cited by ABC.
"I'd also like to thank the Coast Guard who was there instantaneously, Suffolk County Marine Bureau, the lifeguards that came to the beach," he added.
No-one was injured in the incident. The NYPD's Aviation and SCUBA special operations units assisted in the rescue.
McMahon is a minority owner in the World Wrestling Entertainment corporation, and serves as commissioner for the company's SmackDown Live show.
"It went as good as it could go," pilot Mario Regtien said. "[We] landed softly, and I checked to see if he was OK. Everyone was fine, and we waited for the Coast Guard at that point. I left my shoes in the helicopter in case we had to swim."
I'd like to thank the man upstairs for looking out this morning & thanks to pilot Mario, Suffolk Co. Marine Bureau & Fire Island Coast Guard

— Shane McMahon (@shanemcmahon) July 19, 2017
"It's very unsettling when all of a sudden you have something happen," McMahon said. "You hear a bang... yes, it was very unnerving. But again, Mario was super calm, which made me super calm. And we landed perfectly," he said.
You can share this story on social media: