Sen. John McCain diagnosed with brain cancer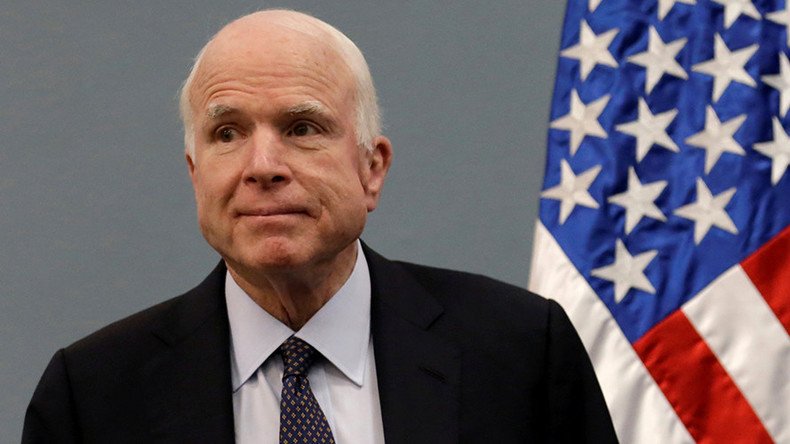 Republican Senator John McCain of Arizona has been diagnosed with brain cancer after checking into a hospital for a blood clot near his left eye. Doctors discovered a glioblastoma, a malignant brain tumor.
The tumor was discovered at the Mayo Clinic Hospital in Phoenix last Friday.
"The Senator and his family are reviewing further treatment options with his Mayo Clinic care team," a Wednesday evening statement from McCain's office read. Chemotherapy and radiation may be the next step, according to the statement.
Doctors said McCain recovered from surgery "amazingly well," according to McCain's office, and they added that McCain's "underlying health is excellent."
McCain's daughter, Meghan McCain, confirmed the news, which she called a "shock" in a statement released Wednesday evening.
"It is an experience familiar to us, given my father's previous battle with cancer," she said, adding, "It won't surprise you to learn that in all this, the one of us who is most confident and calm is my father."
McCain has previously overcome cancer. He revealed in 2008 during his presidential campaign that he had four malignant melanomas removed in surgeries in 1993, 2000 and 2002.
McCain's colleagues in Congress tweeted their support and prayers for the 80-year-old six-term US senator, who chairs the armed services committee. McCain was also a Navy pilot and prisoner of war during the Vietnam War.
President Donald Trump said that he and First Lady Melania Trump send their thoughts and prayers. "Get well soon," the president wrote.
Former President Barack Obama called McCain "one of the bravest fighters I've ever known," and tweeted, "Cancer doesn't know what it's up against."
Democratic Senator Ted Kennedy of Massachusetts died of brain cancer after a 15-month battle in August 2009 at the age of 77.
CHECK BACK FOR UPDATES
You can share this story on social media: