Trump to nominate Jon Huntsman as US ambassador to Russia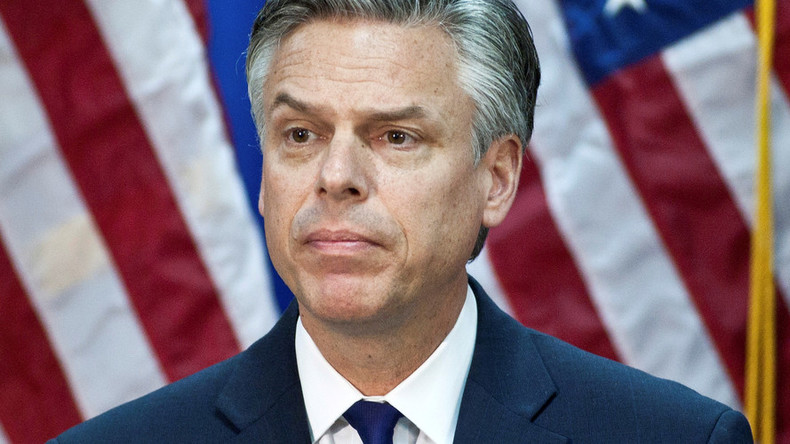 Jon Huntsman, former US ambassador to China will be nominated as the next US ambassador to Russia, the White House has announced. President Donald Trump and Huntsman have a mixed history together.
Amid escalating political tensions over alleged Russian interference in the 2016 presidential election and investigations into whether the Trump campaign colluded with Russia, the nomination attracted even more attention.
The Tuesday evening announcement from the White House drew ridicule from many on social media who spotted a typo in the official statement. Huntsman's first name was incorrectly spelled John.
The personal history between Trump and Huntsman goes back years. In February 2012, as Huntsman was campaigning for the Republican nomination for president, Trump attacked his record as the US envoy to China under former President Barack Obama from 2009 to 2011.
Jon Huntsman called to see me. I said no, he gave away our country to China! @JonHuntsman

— Donald J. Trump (@realDonaldTrump) February 9, 2012
"Jon Huntsman called to see me," Trump tweeted, "I said no, he gave away our country to China!"
A year prior, February 2015, Huntsman tweeted a shot at Trump after calling players of the US Navy football team "America's best" and not "Trump/Palin supporters."
Huntsman was lauded in the White House statement which listed his long list of elected and appointed positions.
"His robust record of public service includes service as U.S. Ambassador to China and to Singapore, Deputy United States Trade Representative, Deputy Assistant Secretary of Commerce for East Asian and Pacific Affairs, and Deputy Assistant Secretary of Commerce for Trade Development. He was also twice elected Governor of Utah," the statement said.
Huntsman worked in a total of five presidential administrations.
He endorsed Trump in 2016 after he secured the nomination, but then Huntsman urged Trump to drop out of the race when a 2005 tape emerged of a lewd conversation Trump had with Hollywood Access host-at-the-time Billy Bush.
The diplomatic post requires a majority vote confirmation in the US Senate.