Afghanistan civilian deaths hit record highs as US-led airstrikes reach 2012 levels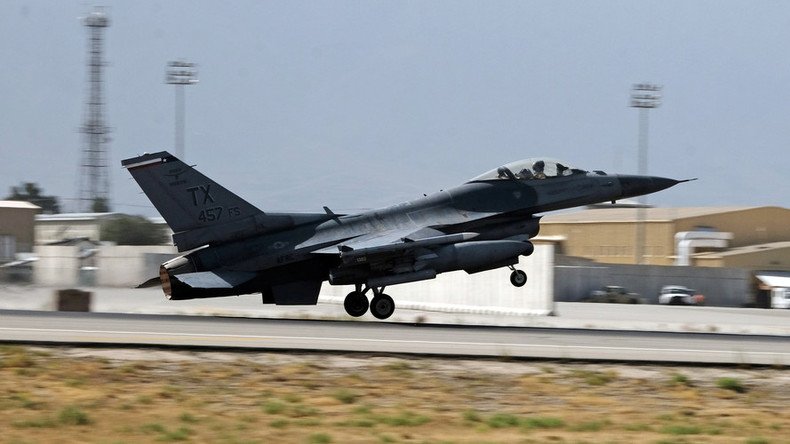 The US Air Force and its allies have dropped more munitions on Afghanistan in the first half of 2017 than in all of the previous year. This is level with the previous high in the first half of 2012 and coincides with a spike in civilian casualties, according to the UN.
So far this year, 232 civilians were killed in the airstrikes, compared to 162 the first six months of 2016. Around half of those died in operations carried out by the Afghan Air Force.
The American and coalition forces have dropped 1,634 munitions in Afghanistan during the first half of 2017, according to figures released by the US Air Force. The US and allied jets have flown over 2,000 combat sorties, and more than 500 of them ended up releasing at least one munition.
By comparison, there were 28,760 sorties recorded in all of 2012, with 1,975 of them reported to have released at least one weapon.
A drastic increase in aerial missions predictably caused more fatalities among Afghan civilians. A Monday report released by the UN's mission to Afghanistan said the death toll began to climb due to the coalition bombings during the first half of 2017.
READ MORE: 4,000 more US troops to be sent to Afghanistan – report
The last time the US Air Force expended munitions at this level was in 2012. At the time, there were nearly 50,000 US soldiers in the country, compared to the 9,800 US troops estimated to be stationed there now.
In June, President Donald Trump authorized the Pentagon, headed by Secretary of Defense Jim Mattis, to set the number of US forces in Afghanistan. Mattis reportedly plans to deploy an additional 4,000 troops to the war-torn country, signaling the largest troop increase since Trump took office.
"Each one of these casualty figures reflects a broken family, unimaginable trauma and suffering, and the brutal violation of people's human rights," Zeid Ra'ad Al Hussein, UN High Commissioner for Human Rights, said in a statement.
"Many Afghan civilians are suffering psychological trauma, having lost family and friends, and are living in fear knowing the risks they face as they go about their daily lives. Many more have been forced from their homes and suffered lasting damage to their health, education and livelihoods. The continuing national tragedy of Afghanistan must not be overlooked," Al Hussein said.
You can share this story on social media: