'If Don Jr's Russian meeting was nefarious, why did Secret Service allow it?' – Trump lawyer
Published time: 16 Jul, 2017 21:43
Edited time: 17 Jul, 2017 05:04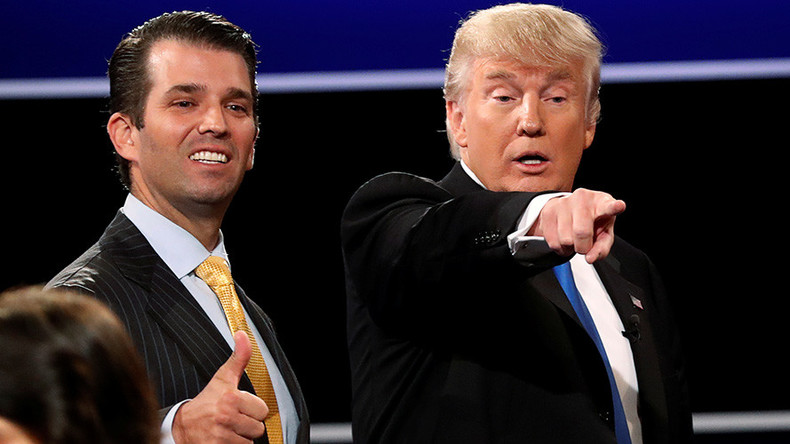 President Donald Trump's legal team insists that the campaign meeting between Donald Trump Jr. and a Russian lawyer was not illegal, did not involve the candidate himself, and contrasts favorably with links between the Clinton campaign and Ukraine.
Jay Sekulow, a senior member of Trump's legal team, toured all five of the major networks' political talk shows Sunday, defending the administration over the June 2016 New York encounter involving lawyer Natalia Veselnitskaya and lobbyist Rinat Akhmetshin on one side, and Trump Jr., the president's son-in-law Jared Kushner, and then-campaign manager Paul Manafort on the other.
"Nothing in that meeting that would have taken place, even if it was about the topic of an opposition research paper from a Russian lawyer, is illegal or a violation of the law," Sekulow told Fox News, fending off accusations that the team may have been "colluding" with Russia.
The original email sent to Trump Jr. prior to the Trump Tower meeting, which allegedly lasted less than a quarter of an hour, promised information that "would incriminate Hillary and her dealings with Russia and would be very useful to your father."
Sekulow said president Trump learned of the meeting only when it was flagged up by a New York Times story earlier this week.
Trump "had no meetings, was aware of no meetings with Russians, was not aware of this one until really right before it all broke," Sekulow said on CBS' Face the Nation.
Sekulow added during several interviews that Trump would be "willing to testify" before the Senate on the issue, though, likely, "it wouldn't come to that."
The high-profile lawyer and media figure also questioned why the Secret Service – which screens those allowed access to presidential candidates and their associates – let through the two Russian nationals and their interpreter.
"I wonder why the Secret Service, if this was nefarious, why the Secret Service allowed these people in. The president had Secret Service protection at that point, and that raised a question with me," Sekulow said on ABC's This Week program.
Later Sunday, the Secret Service denied that anyone in the room at the meeting was under its protection at the time.
"Donald Trump, Jr. was not a protectee of the USSS in June, 2016. Thus we would not have screened anyone he was meeting with at that time."
Sekulow's Secret Service query echoes an earlier line of attack by the administration, which noted that Veselnitskaya was issued a discretionary visa to enter the United States, an unusual scenario for a supposed agent of a foreign government, as she has been presented.
Sekulow also drew attention to a January Politico article which pointed out that the Ukrainian government attempted to dig up dirt on Manafort's alleged past links to the Kremlin. Manafort spent years working in Russia as a consultant.
"We can't act like this is in a vacuum. We know for a fact, as was reported extensively in an investigative journalist piece by Politico, that the Ukrainians were in direct contact with DNC officials and traded information back and forth," Sekulow told ABC.
HillaryClinton can illegally get the questions to the Debate & delete 33,000 emails but my son Don is being scorned by the Fake News Media?

— Donald J. Trump (@realDonaldTrump) 16 July 2017
Despite Sekulow's denial of impropriety, a senior Democrat on the Senate Intelligence Committee, Virginia Senator Mark Warner, said he would make every effort to extract a testimony from Trump Jr. and all others present at the talks.
Warner also stated on CNN's State of the Union that it was "somewhat unbelievable that neither the son nor the son-in-law ever shared [details of the meeting] with their dad, the candidate."
READ MORE: Emails to Trump Jr. on Russian lawyer meeting are full of lies – Agalarov's attorney
President Trump has been relatively reserved as accusations and denials have flown back and forth, but on Sunday, he posted a series of tweets attacking the establishment and the media's double standards.
"Hillary Clinton can illegally get the questions to the Debate & delete 33,000 emails but my son Don is being scorned by the Fake News Media?" he tweeted.
"With all of its phony unnamed sources & highly slanted & even fraudulent reporting, #Fake News is DISTORTING DEMOCRACY in our country!" Trump wrote in a subsequent tweet.