73% of Dems would give up alcohol for life to see Trump impeached, survey says
Published time: 14 Jul, 2017 23:36
Edited time: 15 Jul, 2017 11:23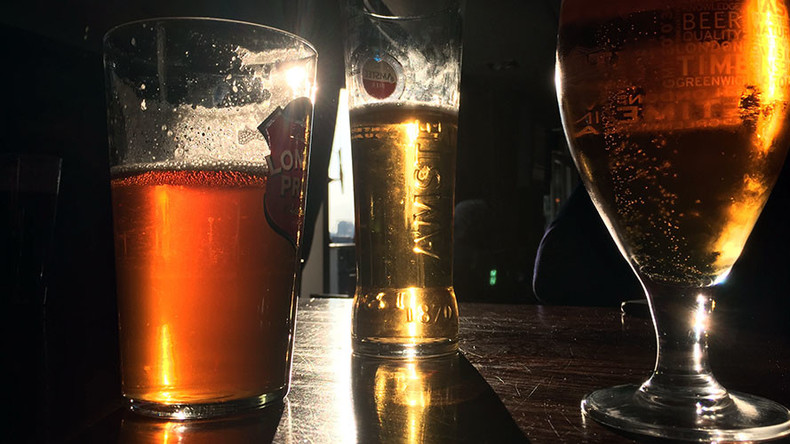 A drug and alcohol rehabilitation group has released a study which shows nearly 75 percent of Democrats are so thirsty for President Donald Trump's immediate impeachment, they would give up booze forever.
Detox, the advocacy group behind the recent poll, interviewed 1,013 men and women who identify as active alcohol consumers.
The group revealed that 73.3 percent of Democrats would never drink again if Trump were impeached "tomorrow," while perhaps a surprisingly high 17 percent of Republicans would give up the bottle.
Americans seem to care very deeply about politics, according to the study, which shows that these drinkers had more interest in giving up liquor, beer and wine for political issues, rather than going cold turkey for other reasons, such as lifestyle choices or money.
On Wednesday, Rep. Brad Sherman (D-California) became the first legislator to introduce articles of impeachment against Trump. He is accusing the president of obstructing justice during an investigation into accusations that Russia interfered in the 2016 US presidential election. Sherman cites Trump's abrupt firing of former FBI Director James Comey, who was leading the Department of Justice investigation.
Many in the political arena see his move on Wednesday as more symbolic due to the lack of secured votes, rather than an actual attempt to throw the president out of the Oval Office. Sherman is also facing resistance from some Democrats in his own party, such as House Minority Leader Nancy Pelosi of California.
Detox also found that 31 percent of Republicans would give up alcohol if the media cut out the constant criticism of Trump. Only 6 percent of Democrats felt the same way, according to the survey conducted in March.
READ MORE: Most Americans still support Trump's limited travel ban – new poll
On the other hand, the minimum amount of funds an American would accept is $4,107 to stop consuming alcoholic beverages for a year. Detox goes on to state that the average US citizen would accept $365,458 in exchange for quitting alcohol for the rest of their days. A margin of error of five percent was reported in the survey for the average minimum amount of money one would accept to give up drinking, the study showed.
The report highlighted that there were more registered Democrats who participated in the poll than there were Republicans. Forty-three percent identified themselves as Democrats, while only 21 percent said they were Republicans. The other 36 percent identified as other.