Eels on wheels: Oregon highway & cars get slimed after 4 tons of eels spill out of truck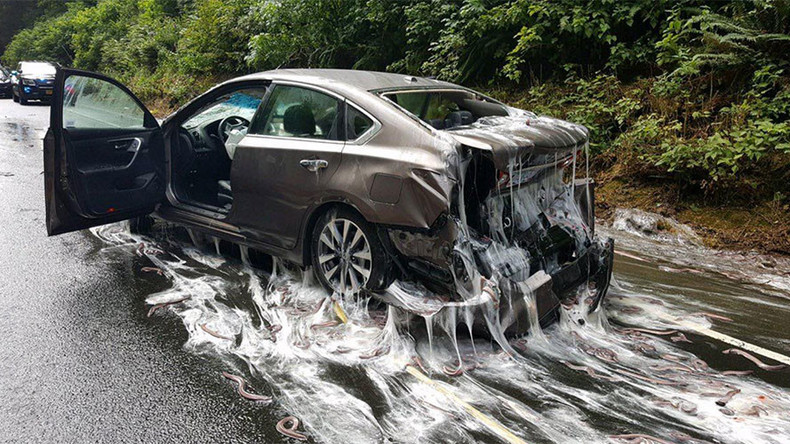 A highway in Oregon turned into a scene from a goopy nightmare when a truck carrying live eels overturned, covering the road with nearly four tons of "slime eels." Officials said that the highway has since been cleared and all lanes have been reopened.
Oregon State Police say the incident began when a semi-truck heading north on US highway 101 failed to stop at a construction zone and overturned around 12:00pm on Thursday, according to KGW.
The truck was holding 7,500 pounds of "slime eels" headed to Korea for consumption. When the weight of the truck shifted, one of the containers fell off the truck. The remaining containers and the flatbed then separated, causing four other cars to smash into each other.
The contents of the truck quickly spilled onto the surrounding cars and across the highway.
Erina Butler, an eyewitness, described the scene as "liquid eel."
"Our brains couldn't process what was happening," Butler told KOIN, adding that the containers "just kept going, cascading, a domino effect over these poor cars."
The Oregon State Police posted photos of the aftermath on Twitter, warning travelers to stay away from the area.
The Depoe Bay Fire District reported that there were no injuries as a result of the incident.
The creatures were later reported to be Hagfish. According to the Oregon Department of Fish and Wildlife, Hagfish, also known as slime eels, are primitive jawless fish that produce a protein based mucous through the glands on each side of their body when they are distressed.
The cleanup process was slowed by the fact that the eel's mucus forms a thick slime when it is mixed with water.
The Depoe Bay Fire District spent hours using fire hoses and even a bulldozer to push the slime off the highway.
Just after 4:00pm, ODOT tweeted that all lanes were open, but warned travelers to "use caution in the area."
All lanes of US101 now open at MP 131, S of #DepotBay after a truckload of #eels overturned, covering the roadway. Use caution in the area.

— Oregon DOT (@OregonDOT) July 13, 2017