US troops inside ISIS stronghold Raqqa in Syria – military official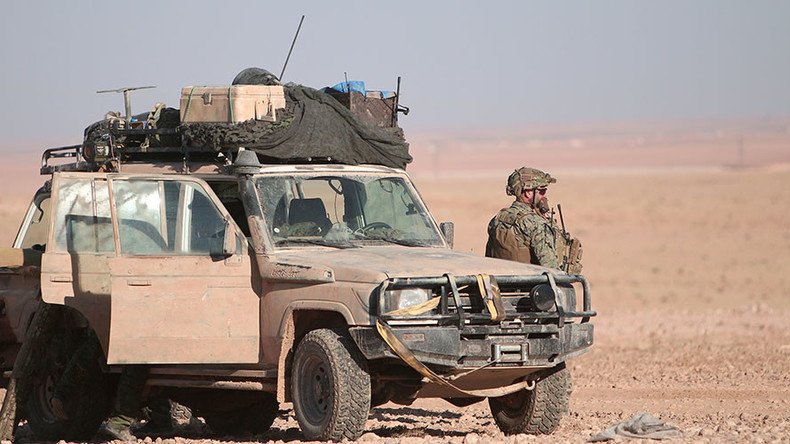 US military advisors are operating inside the city of Raqqa, the Islamic State (IS, formerly ISIS/ISIL) terrorist group's stronghold in Syria, a US military official said Wednesday.
The US troops, many of them special operations forces, are working in an "advise, assist and accompany" role, AFP quoted Army Colonel Ryan Dillon, spokesman for Operation Inherent Resolve (OIR), as saying.
The troops are supporting local fighters from the Syrian Democratic Forces (SDF), he added.
"They are much more exposed to enemy contact than those in Iraq," Dillon said.
However, he added that they are not in a direct combat role but are calling in airstrikes.
Commenting about the numbers of US forces there, he said that it's "not hundreds." The US has been vague about the number of its military forces operating in Syria.
While the UN has called the humanitarian situation in the city "dire," the SDF supported by the US has been pushing inside the city since last month.
In response to the offensive, IS has been increasing its use of drones carrying explosives. "Over the course over the last week or two, it has increased as we've continued to push in closer inside of Raqqa city center," said Dillon.
According to UN officials, up to 50,000 people remain trapped in the city amid the offensive while escape routes are being sealed off.
The availability of food, water, medicine, electricity and other essentials has been dwindling, Andrej Mahecic, a spokesman for the UN refugee agency, said Wednesday.
UN warnings of the "staggering" number of civilian casualties in Raqqa have been denied by coalition commanders as exaggeration, but the dire reports have been backed up by monitoring groups.
7) In Raqqa area alone, 54 children and 34 women were credibly reported killed by Coalition strikes in June. It's becoming a regular pattern pic.twitter.com/BRZgXAD75z

— Airwars (@airwars) July 12, 2017
A UK-based monitoring group said Wednesday that June was the second deadliest month for civilians in Iraq and Syria. Record numbers of munitions were used by the coalition and there was a fourfold increase in munitions that were dropped on Raqqa, where "more than ever before civilians were estimated killed," allegedly by the Coalition forces, according to Airways
"At least 415 non-combatants were likely killed, most of them in Raqqa governorate – where the offensives to seize the capital from ISIS officially began on June 6 after months of airstrikes and bombing in the area," their monthly report said.
On June 28, the UN High Commissioner for Human Rights, Zeid Ra'ad Al Hussein, expressed concern over the increasing number of civilian casualties and escape routes being shut.
"The intense bombardment of Al-Raqqa over the past three weeks has reportedly left civilians terrified and confused about where they can seek refuge as they are caught between ISIL's monstrosities and the fierce battle to defeat it," he said. "The large number of civilian casualties indicates that much more needs to be done by the parties to ensure the protection of the civilian population."
He also said that there are reports of violations and abuses by the SDF armed group in areas under its control, including looting, abductions and arbitrary detentions during screening processes, as well as the recruitment of children.
You can share this story on social media: