'Wild & overblown': Lavrov blasts media hype over Trump Jr. meeting with Russian lawyer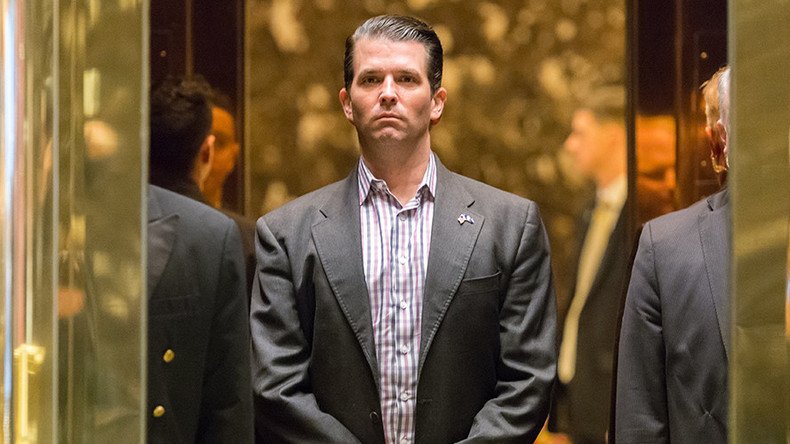 Russian Foreign Minister Sergey Lavrov says he was astonished to learn the US president's son has been slammed for talking to a Russian lawyer. The minister has lampooned the accusations, saying they were "wild" and making a mountain out of a molehill.
"I was amazed to find out that Trump's son is accused of talking to her [Natalia Veselnitskaya]. For me it's basically wild, because when a person talks to a lawyer, what is the threat to anyone?" the top Russian diplomat said.
Lavrov added that he had learned about this fact from the media.
"When I turned on the TV in the morning, all the Western channels were talking about it.
"It is amazing how serious people are making an elephant out of a fly," the minister added while speaking at a news conference with his Belgian counterpart, Didier Deynders, on Wednesday.
Kremlin spokesman Dmitry Peskov has said Moscow "is not aware of this whole story, has never had contacts with this lawyer; that's why we have nothing to say about this story: it has nothing to do with us."
The New York Times reported earlier that Donald Trump Jr., together with Trump's son-in-law, Jared Kushner, and then-campaign chairman Paul J. Manafort, met with Veselnitskaya on June 9, 2016, after being told that she had damaging information on Democratic presidential candidate Hillary Clinton.
On Tuesday, Donald Trump Jr. released the full chain of emails from June 2016 related to the meeting with Veselnitskaya at the Trump Tower, after claims appeared in the media alleging that the meeting amounted to proof that the Trump campaign had colluded with the Russian government during the 2016 presidential election.
"The woman, as she has said publicly, was not a government official," Trump Jr. said in a statement, adding that she had "no information to provide and wanted to talk about adoption policy and the Magnitsky Act."
You can share this story on social media: