'One banana, two bananas': Amazon's latest market disruptor is free fruit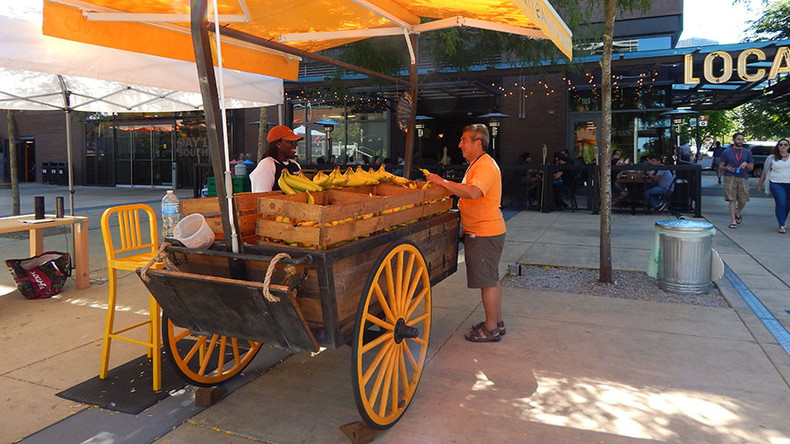 Is Amazon becoming a 'Banana Republic'? Its Community Banana Stand staffed by "banistas" and "bananagers" offers the fruit for free to anyone in the community. The internet retailer expanded the gimmick to the nation's capital to celebrate its Prime Day.
Since Amazon began its banana stand in 2015, the online giant has distributed 1.7 million of the tropical fruit, but local retailers are split on the move and watching a dip in their sales.
The banana stand was the brainstorm of the company's founder and CEO, Jeff Bezos, who thought everyone near its headquarters in Seattle, Washington should get a health, eco-friendly snack as a public service. The company first considered oranges but instead went for bananas.
Starting in 2015, the banistas passed out more than 1.7 million of the tropical yellow fruit, averaging 4,500 a day.
"My favorite thing about the banana stand is the unlimited supply of bananas," said one patron in a company video.
The stand is open Monday through Friday at Amazon's South Lake Union campus, and expanded to a second location at the Denny Regrade.
The public and their friends like the free gift.
There is a downside to offering the freebies, though, and it's not comedic pratfall: Amazon is altering local banana sales.
Nearby businesses like the vegetarian café Anar had to rethink how it uses bananas in its food and drinks after patrons suddenly stopped ordering banana smoothies. Other retailers have stopped selling the fruit all together or keeping fewer, according to the Wall Street Journal.
Nearby restaurant owners have also complained that patrons are forgetting their banana manners by bringing in outside fruit and leaving the peels behind.
Other establishments are capitalizing on the banana frenzy and have added extra banana-based treats to their menus.
The stands have no plans to switch to other fruits anytime soon.
Banistas told the Wall Street Journal people have requested avocados and more, but the cost is just prohibitive so they are sticking with the potassium-rich item.
A third community banana stand opened up to greet commuters outside Union Station in Washington, DC on Tuesday morning with "banistas" passing out the fruit for free.
The temporary installation is to mark on the company's annual "Prime Day," a Black-Friday-like day of shopping deals for people who subscribe to Amazon Prime. The banana-ganza will be followed by a series of "special policy sessions" and other events around Capitol Hill, DCist reported.
Other retailers are also using gimmicks to attract more customers.
On Tuesday, Chick-fil-A restaurants are giving away food as part of its 13th annual Cow Appreciation Day ‒ as long as customers dress up like a cow.
"Adult customers who dress in any type of cow attire, whether it's 'head-to-hoof' or sporting a cow-spotted accessory, will be rewarded with a free Chick-fil-A entrée," the company announced.
Cow-clad customers can chose any item on the menu, except for salads.
But why cows when the company is known for its chicken sandwiches? The company has long featured cows in its advertising, using the chickens to deflect from their own slaughter.
Not to be left out in the summer season silliness, the 7-Eleven convenience chain chose to mark its 90th birthday by upping its annual July 11 tradition from one day to a whole week of free (small) Slurpees, while supplies last.
"7-Eleven Day is a celebration, not only of our birthday, but more importantly, of our customers," Laura Gordon, 7-Eleven's marketing vice president, said in a statement. "Ninety years is a big birthday, and our customers are the ones who got us here."
Slurpees, which turned 50 last year, debuted at 7-Eleven in 1966. The free slurpee tradition began in 2002.
Slurpees come in a vast array of flavors, including wild cherry, lemonade, watermelon lime, and a new, limited-edition flavor: cotton candy. The special is made up of 18 grams of sugar with a mix of ingredients including high fructose corn syrup and artificial colors… and is bound to give people brain freeze.