'Terrifying' wildfires force nearly 8,000 to evacuate in California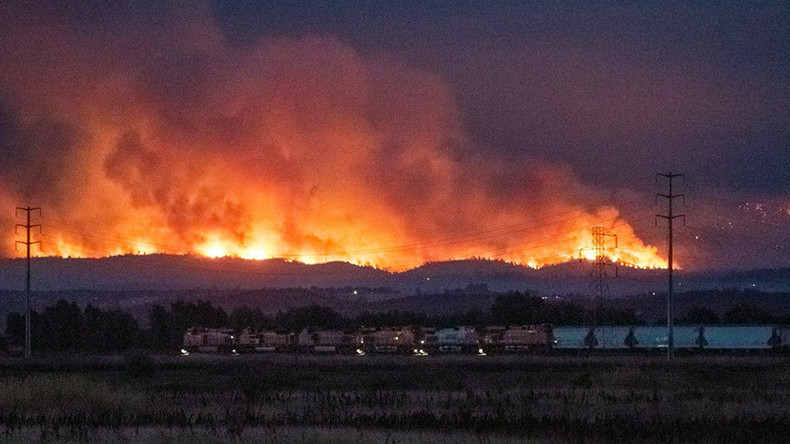 Nearly 8,000 Californians have evacuated their houses as thousands of firefighters battling 14 large wildfires throughout the state from grassy foothills near Sacramento to Santa Barbara, destroying homes and structures, according to Cal Fire.
Southern California is in the grip of a blistering heat wave with temperatures over 100 degrees Fahrenheit (37 Celsius).
Chuck Wilsey and his family were among 4,000 evacuated in the Sierra Nevada range, 60 miles north of Sacramento, when sheriff's deputies drove through neighborhoods announcing evacuations over loudspeakers.
"Fire and flood so close together," Wilsey told AP at the Red Cross shelter. "We just try to stay prepared."
The blaze, southeast of Oroville in Butte County, burned nearly 9 square miles (23 square kilometers) of grass, injured four firefighters and destroyed at least 17 structures. It was 35 percent contained on Monday.
The Wall fire blaze, which has injured four people, was threatening an additional 5,400 structures, and it was 17 percent contained by Sunday.
Our 5,000 firefighters have had a busy fire season & it's just getting started. Thanks for your kind words and support! pic.twitter.com/MKY5gKrSYR

— USFS Fire-California (@R5_Fire_News) July 8, 2017
California Governor Jerry Brown declared a state of emergency and allotted additional resources for firefighting efforts there.
The crumbling of Oroville Dam spillway caused people to be briefly evacuated in February due to the threat of flooding.
In Southern California, at least 3,500 people remained out of their homes as a pair of fires raged at different ends of Santa Barbara County.
The larger of the two, the Alamo fire, charred more than 45 square miles (116 square kilometers) of dry bush and threatened more than 130 rural homes in San Luis Obispo County and spreading to Santa Barbara County along the state's central coast. It was 15 percent contained on Monday, thanks to water-dropping helicopters, according to Cal Fire.
On Sunday, fire containment efforts were particularly aimed at guarding mountain peaks holding vital infrastructure, such as a high-voltage line that powers neighboring cities, according to the Los Angeles Times.
About 30 miles south of the Alamo fire, the second, the Whittier fire near Lake Cachuma, started Saturday afternoon. That fire engulfed some 12 square miles and destroyed 20 structures and threatened 150 more, according to Cal Fire.
A third blaze on the Central Coast, the Stone fire, ignited Sunday about 30 miles north of Morro Bay. The fire grew to 340 acres and was 10 percent contained on Sunday.
One resident, Sarah Gustafson, was having her tires fixed when she saw a pillar of smoke rise on the other side of Santa Ynez Mountains and knew she had to rescue her cats. As she made her way over the mountain range the fire was exploding from 300 to more than 3,000 acres of forest, she told the Los Angeles Times.
"It was terrifying," Gustafson said. "The sky was orange and black. You could see flames up on the ride. When I got home it was smoke with ash."
She rescued her cats and spent the night in her car in the parking lot of a shelter set up at San Marcos High School in Santa Barbara.
The fires broke out during a blistering weekend when a heat wave toppled temperature records at 110 degrees Fahrenheit (43 degrees Celsius), officials said.
Fire crews are battling dozens of other blazes in Arizona, Colorado and New Mexico.