State Dept welcomes 'TechGirls' from some Muslim countries, but bars others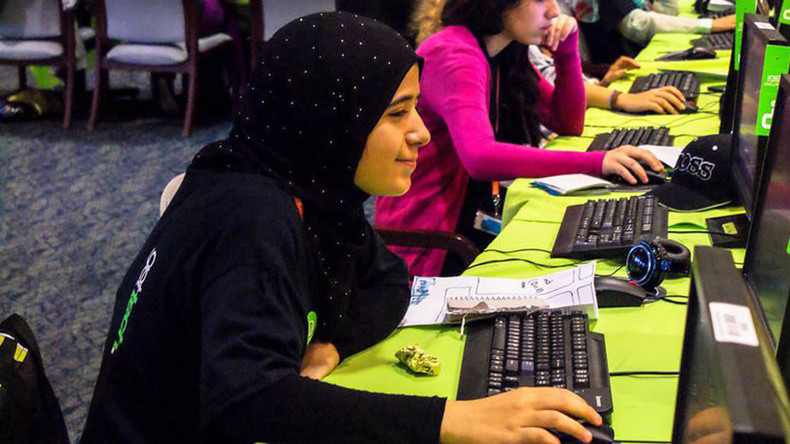 The Trump administration is going ahead with an Obama-era technology program aimed at young women from predominantly Muslim nations in the Middle East and North Africa, even as it denied visas to Afghan girls for a robotics competition.
On Tuesday, the State Department announced the participation of 28 young women from Algeria, Egypt, Jordan, Lebanon, Morocco, the Palestinian Territories, and Tunisia in the 2017 TechGirls exchange program.
The three-week event begins July 12 and runs through August 3, in Washington, DC and at Virginia Tech University in Blacksburg, Virginia.
The TechGirls initiative "empowers girls around the world to become leaders in the science, technology, engineering, and math (STEM) fields," the State Department said in a statement. The program has 130 alumnae already, who have trained more than 2,300 peers in their home countries. Their achievements "contribute to the US global commitment to advance the rights of women and girls around the world, as well as STEM education," the statement said.
The program dates back to 2012, and has been administered by the nonprofit Legacy International. For this year's exchange, the State Department has partnered up with AT&T, Byte Back, Echo & Co, FCC, i Strategies Lab, Islamic Relief, Nokia, NPR, Relief International, Synoptos, TechChange, Vox Media and 18F, according to the announcement.
Even as it continued to pursue this Obama-era program, the State Department last week denied US visas to a team of schoolgirls from Afghanistan that was supposed to attend a robotics competition in Washington, DC. The robot was allowed in, but the girls were not.
"We still don't know the reason why we were not granted visas, because other countries participating in the competition have been given visas," said Fatemah Qaderyan, 14, according to Reuters.
"All of the countries can participate in the competitions, but we can't. So it's a clear insult for the people of Afghanistan," said Lida Azizi, 17, another team member.
One other team, from The Gambia, was also denied visas for the First Global Challenge competition, which will take place July 16-18 in Washington, DC.
When Reuters inquired about the decision, the State Department declined to comment, citing regulations prohibiting them from discussing individual visa cases.