LA plant explosion sparks widespread power outages (VIDEOS)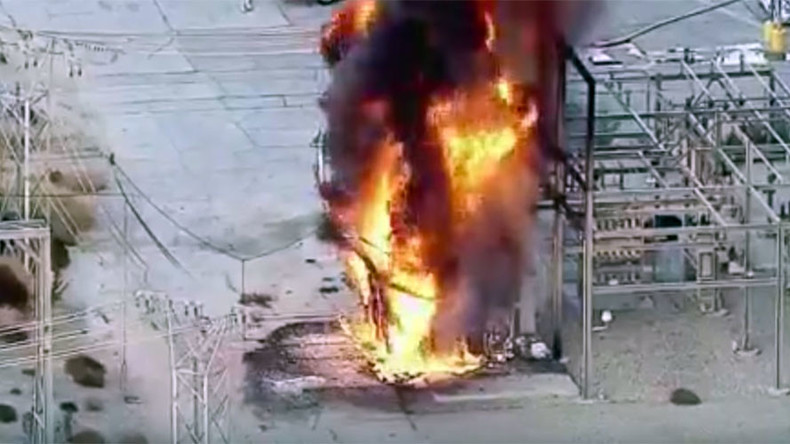 A power plant explosion has left large areas of Los Angeles without electricity, affecting homes, businesses and even vital infrastructure like traffic lights.
The outages hit more than 140,000 homes and businesses in the San Fernando Valley Saturday, the Los Angeles Department of Water and Power (LADWP) confirmed.
"LADWP apologizes for the inconvenience and appreciates customers' patience as we work to restore power as safely and quickly as possible," the department said.
The LADWP has since restored electricity to about a third of those affected, however 94,000 remain without power and it's not known when their supply will be fully restored.
The explosion was reported shortly before 7pm local time Saturday. The LA Times reports that firefighters arrived on the scene to find a huge container of mineral oil, which is used as a cooling agent for electrical equipment, engulfed in flames.
The LADWP said that the power was intentionally cut to allow firefighters to battle the blaze. Firefighters managed to get the blaze under control Saturday night. No injuries have been reported.
LA Fire Department spokesman Brian Humphrey said firefighters rescued dozens of people who were stranded in elevators at the power plant during the incident.
The power cut comes amid a heatwave in the area, with temperatures hitting a sweltering 100 degrees Fahrenheit (37 degrees Celsius) in the Valley.
The power outage sparked a flood of reaction online as people affected sought to entertain themselves on battery-powered devices and share their power-cut hardships.
You can share this story on social media: