Delta flight rerouted back to Seattle after passenger 'punches attendant'
Published time: 7 Jul, 2017 17:43
Edited time: 8 Jul, 2017 14:40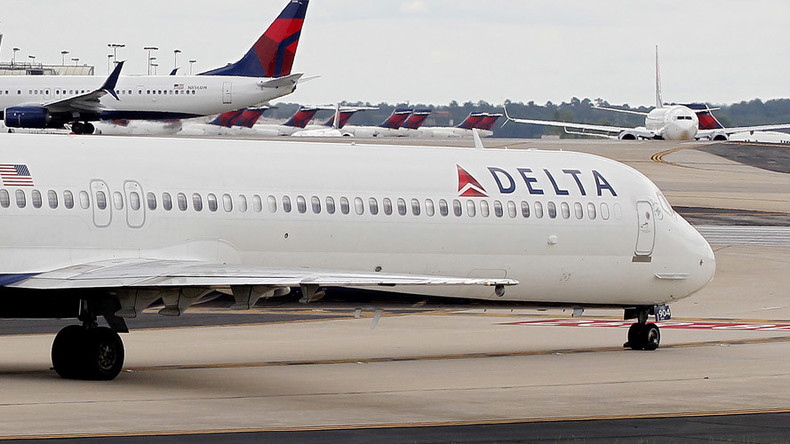 A Delta Airlines flight headed for Beijing returned to Washington state after a passenger assaulted a flight attendant and injured another passenger nearly an hour after take-off, officials said. The FBI is conducting an investigation.
A 23-year-old man, sitting in the first class cabin, reportedly punched the flight attendant on Delta Flight 129 on Thursday night. Fellow passengers stepped in to try and subdue the man, with one other person injured, as well as the assailant and the flight attendant, according to the FBI.
Details about what led to the alleged assault were not immediately available.
The FBI said there was no information to suggest it was a national security threat.
BREAKING NEWS Delta Airlines flight 129 Seattle-Beijing had to turn back under military escort after someone tried to enter cockpit (1/2) pic.twitter.com/egGrwDoXQY

— ☀️Kyle Underwood☀️ (@wx8) July 7, 2017
Passengers on the flight told KIRO-TV the unruly passenger was pacing up and down the cabin toward the bathroom before heading for the exit door.
The man was trying to open the exit door and he said he needed air, according to another passenger.
When the flight attendant tried to stop him, the man then reportedly threw a punch.
Passenger Dustin Jones was seated just behind the curtains that led to first class, and said he could tell there was a scuffle happening.

"One of the flight attendants ran back and said there was a Code 3," Jones told KIRO-TV. "There was a serious fight up front."
The man was arrested by Port of Seattle police shortly after the plane returned to Seattle-Tacoma International Airport at 7:10 pm. His name has not been released.
The flight attendant and a passenger were taken to a hospital with non-life-threatening injuries, an airport spokesman said.
The suspect also was injured, but declined treatment from medics and was taken into custody.
Jones said he saw the man being handcuffed and zip-tied, and being rolled into the terminal in a wheelchair after they landed.
"He started yelling for help," Jones said. "And so he turned the wheelchair over in the middle of the airport, screaming for people to help him, just being belligerent."
Delta described the flight's return as a "security incident with a passenger."

"The passenger was restrained on board and was removed from the flight by law enforcement without further incident when the aircraft arrived back at Seattle," the airline said in a prepared statement, according to CNN. Delta said there were 270 people on the flight.
The flight departed again for Beijing shortly after midnight local time Friday.
The man is due to make an initial appearance in federal court Friday afternoon in Seattle.
"The FBI's investigation is ongoing and more details about the incident will be provided and the charges announced at the subject's initial appearance in federal court," the FBI said.