Black barber cuts Confederate flag into white man's hair in Oklahoma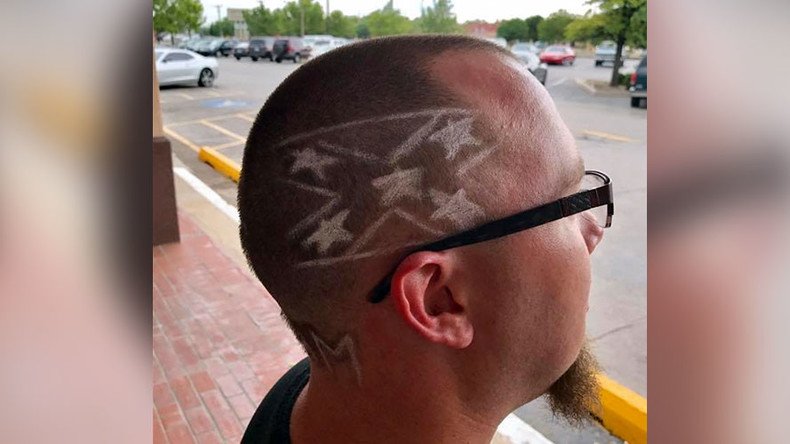 A black barber in Oklahoma has sparked a social media frenzy for the unconventional haircut he gave a white customer. The customer explained that his strange request for a Confederate flag was meant to pay homage to his favorite rapper.
A customer who "seemed kind of scared" walked into the Fade N Up barbershop in Oklahoma City Saturday, and requested a haircut depicting the logo from the record label 'Slumerica,' barber Demontre Heard told KSBI.
The unidentified customer was a fan of the label's rapper Yelawolf.
Heard commented on the difficulty of the design, saying, "It was going to be too much, so he asked if I could do the confederate flag in his head."
"In the back of my head I'm like, 'what kind of stuff are you on?'" Heard continued.
The customer opted to remain anonymous.
Heard told the local news station that the customer "called on the phone knowing it was a diverse shop, but mostly black barbers here."
"So I felt like he really didn't have a problem with coming here," Heard said, "even though he seemed kind of scared when he first came in."
The owner of the shop, Corey 'Scissorhands' Sutter expressed that sometimes he gets unusual requests for haircuts in his shop. "I've actually done Black Power in they head and all this type of stuff. It's been some gang members that wanted their sets in they head, but I never thought that would happen."
Sutter pointed out an important point about barber shops and said "the barber shop is the last place where you can come and talk about religion, politics, sports, girls, guys and all that type of stuff, and keep it in a fun, good manner."
Heard pointed out that some barbershops would have reacted differently in this situation, but explained that Fade N Up is more open minded in these situations.
"If you're white, Asian, Mexican, Black, Puerto Rican, whatever, you sit in my chair and I cut your hair, I hope you leave with the best haircut you get and I hope that you come back," he told KFOR.
Photos were taken by the staff and posted to Facebook, where different opinions clashed.
Some showed their anger on social media towards the unusual haircut. Some customers at the shop supported both parties involved in the incident. Nidal Schawareb, said, "people portray [the Confederate flag] in different ways" adding, "with it being part of an album cover, I see it. I understand where that goes."
For Heard, the whole incident ultimately just came down to business.
"You have the right to… your opinion," he said, "but at the end of the day your opinion doesn't pay my bills, and I have kids to take care of," according to KSBI.
You can share this story on social media: