Deadliest July 4 weekend in Chicago in years, over 100 shot despite extra police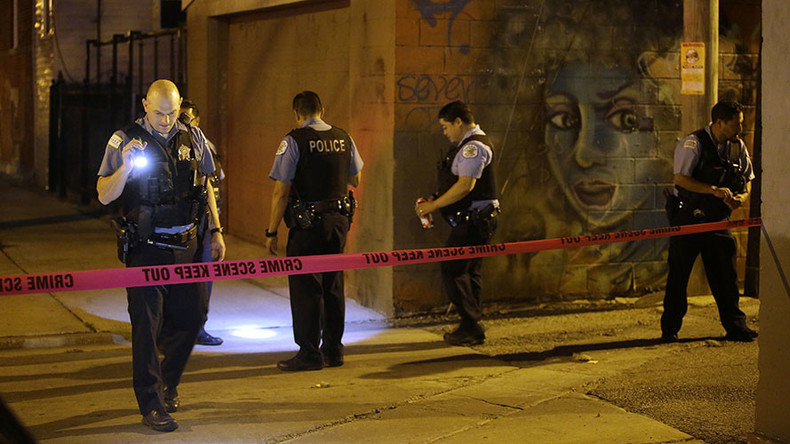 Over 100 people were shot over the four-day weekend in Chicago, with a dozen killed. This is despite more than 1,000 extra officers being deployed on the streets during the holiday.
The number of shootings during the Fourth of July weekend in Chicago is usually high, but this year it skyrocketed, police data shows.
Last year, 66 people were shot, four of them killed, over what turned out to be a three-day weekend as the Fourth of July fell on a Monday.
However, the number of shootings this year is much higher than over the last four-day weekend which was in 2013. Then, 72 people were shot across the city.
This weekend's toll included a Cook County judge's son, shot and wounded Friday night after attending the funeral of a friend who was fatally shot last month, the Chicago Tribune reports.
Other shootings included the killing of a 21-year-old man on Tuesday who, officials said, was not the intended target. The man was sitting in a parked car in the city's Riverdale neighborhood when a sedan pulled up and opened fire at another vehicle, according to police. Authorities said he was shot in the face and taken to the hospital where he was pronounced dead.
READ MORE: 'Epidemic proportions': Trump pledges 'federal help' to stop violent crime in Chicago
The number of homicides in Chicago exceeded 323 in the first half of 2017, which amounts to more murders than over the same period last year.
At the beginning of the holiday weekend, last Friday, President Trump tweeted, "Crime and killings in Chicago have reached such epidemic proportions that I am sending in Federal help."
Crime and killings in Chicago have reached such epidemic proportions that I am sending in Federal help. 1714 shootings in Chicago this year!

— Donald J. Trump (@realDonaldTrump) June 30, 2017
On the same day, Chicago police, federal agents, and prosecutors launched a new initiative – Chicago Crime Gun Strike Force – to target illegal guns and repeated gun offenders in the city that has been plagued with crime for decades.
About 20 additional agents with the US Bureau of Alcohol, Tobacco, Firearms and Explosives (ATF) have been sent to Chicago to join the Chicago Police Department and Illinois State Police to solve shootings and hunt down gun traffickers, officials said.
"The goal is to prosecute as many of these guys as possible federally where they will serve longer prison terms," the head of the Chicago Police Department's organized crime unit, Anthony Riccio, said.
The strike force uses data gathered from the National Integrated Ballistics Information Network (NIBIN), ATF's digital catalogue of the unique marks left when bullets are fired – like fingerprints for guns.
Last year, the Chicago Police Department obtained about 1,500 "hits" linking guns to multiple crimes through NIBIN. The city's police submitted as many bullets and shell casings to be checked through the NIBIN system as Los Angeles and New York combined that year.
You can share this story on social media: