Can pick up egg: Two veterans get DARPA-developed prosthetic arms after 40yrs (VIDEOS)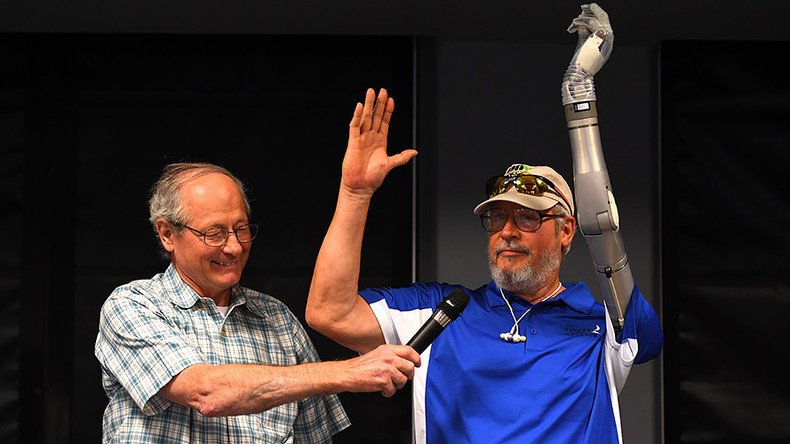 Two retired army veterans who lost their arms more than 40 years ago have received revolutionary prosthetic limbs developed by the Pentagon. Their new futuristic arms, which are named after Luke Skywalker, can pick up small objects as fragile as an egg.
"Stirring with this, I'm cutting with that, dicing," Fred Downs said, as cited by CBS news. Downs lost his left arm below the elbow after being injured in the Vietnam War.
"It's the fun part of being able to use two hands to get all the vegetables prepared, and the meat prepared, and start the grill, and hold plates," he continued.
The second recipient, Artie McAuley, a retired Army captain who lost his left arm in a car accident, was also thrilled to receive his new limb. In order to lift the arm, an amputee has to lift his foot. Sensors in the wearer's shoes then pick up the motion and put the prosthetic limb into action.

"You have to be smart to do this," McAuley said, as cited by AFP. "Once in a while, I make a mistake!"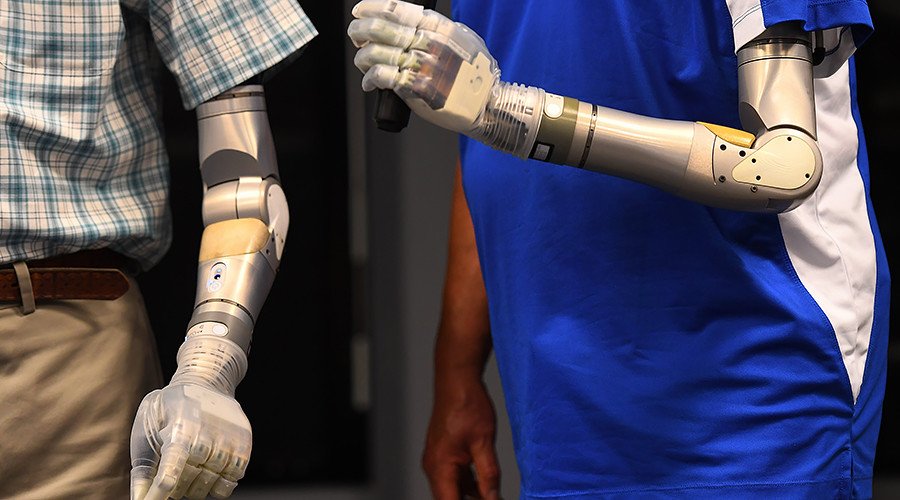 Both showed off their new arms at a veterans' hospital called the VA New York Harbor Health Care System in New York. Downs used his new thumb and index finger to peel a banana.
"These may seem like very simple, routine things, but to someone who can't do it, to be able to be given this function it's like magic," said Downs.
The prosthetics are dubbed LUKE, an acronym for Life Under Kinetic Evolution. They were partially named after the Star Wars character Luke Skywalker, who needed a prosthetic arm after fighting Darth Vader.
According to the website of Mobius Bionics, the company that manufactured the limb, LUKE is "configurable for different levels of amputation, including transradial, transhumeral, and shoulder disarticulation."
The arm has 10 powered joints that can be moved at the same time and at least four different grips, the statement from the website says.
The Defense Advanced Research Projects Agency (DARPA), a US Department of Defense agency that develops technologies for military use, and DEKA Research & Development Corporation contributed to the development of the mechanism.
The limbs give "unprecedented, near-natural arm and hand motion," a DARPA press release says.
"The LUKE system has a fully functional, articulated shoulder joint, which offers unprecedented mobility and quality of life even for individuals with total arm loss," the statement adds.
FDA's Center for Devices and Radiological Health approved the LUKE prosthetic back in 2014. Invented by Dean Kamen at DEKA Research, LUKE is "part of a $100 million initiative to revolutionize prosthetics," according to the DEKA statement.
"Up to this point, design in prosthetic arms has been limited to incremental changes. We developed the LUKE arm to change the game for amputees—creating an innovative, integrated system that offers greater functionality and independence to our wounded warriors and other amputees," Kamen said back in the summer of 2016.
You can share this story on social media: