Trump election panel requests personal voter data from states, 24 push back
Published time: 1 Jul, 2017 07:31
Edited time: 2 Jul, 2017 15:16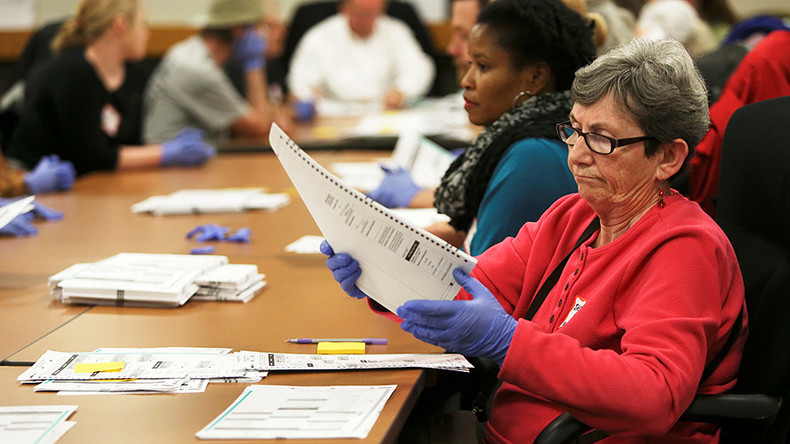 Many states targeted by President Donald Trump's commission on election integrity have already pushed back, refusing to comply with a request for sensitive data on each voter in their states.
Kris Kobach, Kansas' secretary of state, is also the vice-chair of President Trump's election integrity commission. It was reported earlier that he had sent a letter to each of the 50 states and the District of Columbia requesting personal information on voters. The commission is following up on Trump's claims that millions of illegal votes were cast in the 2016 presidential election.
The letter requests the last four digits of voters' social security numbers, their voting history, and a list of any felony convictions they might have, as well as other information. It also asked each secretary of state to provide feedback on elections.
Questions in the letter include, "what changes, if any, to federal election laws would you recommend to enhance the integrity of federal elections?" and "what evidence or information do you have regarding instances of voter fraud or registration fraud in your state?"
According to The Hill, at least 24 states have pushed back, with California, Virginia, and Kentucky refusing to comply altogether.
In a recently released statement, Governor Terry McAuliff (D-Virginia) described Kobach's request as "politically motivated and silly posturing."
California's secretary of state, Alex Padilla, also responded to Kobach in a statement, saying "I will not provide sensitive voter information to a commission that has already inaccurately passed judgement that millions of Californians voted illegally."
In a bizarre turn of events, Kobach announced in an interview with the Kansas City Star that he could not comply in full himself because some of the information requested in the commission's letter is not legally available in the state of Kentucky.
"In Kansas, the social security is not publicly available. Every state receives the same letter, but were not asking for it if it's not publicly available," he said.
On Friday, it was announced that US Magistrate Judge James O' Hara had ruled that Kobach must pay $1,000 for presenting misleading arguments in a voting-related lawsuit.