'You guys are getting worse': Trump almost hit by lamp in chaotic photo op (VIDEO)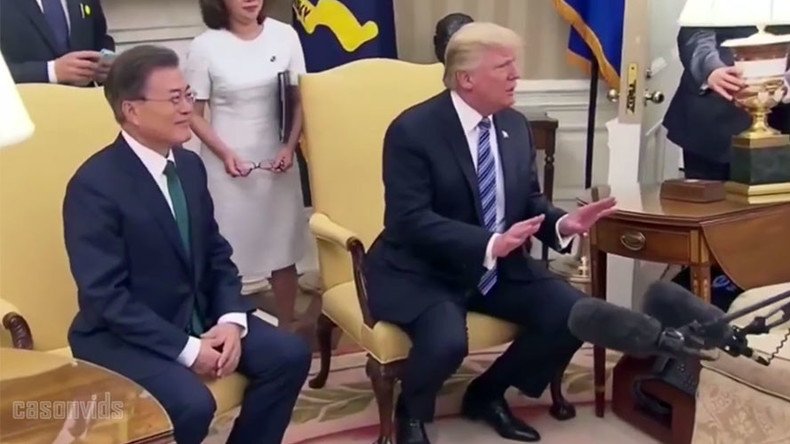 A larger-than-usual press pool rushed into the Oval Office of the White House, damaging a table and nearly knocking over a lamp next to President Donald Trump, who was meeting with South Korean President Moon Jae-in.
On Friday, the White House press pool included a large contingent of Korean media, who were pushing and shoving for the best spot to capture the meeting between the two leaders.
Video posted by C-SPAN shows members of the press bump into a couch, jostling a lamp positioned near Trump.
Keith Schiller, Trump's personal bodyguard, stepped in just in time to catch the lamp before it fell.
"Easy, fellas! Hey, fellas! Fellas, easy," Trump is heard to say, scolding the reporters. "Wow. You guys are getting worse."
Prior to the incident, the Secret Service can be heard asking the reporters to stop pushing and running as they piled into the Oval Office.
"It's actually a very friendly press, don't let that get to you," Trump said to Moon. "Although we just lost a table."
"That shit was nuts," says a member of the US pool. "That guy was assaulting me," says another referring to S. Korea photog. https://t.co/PWXbN7iE0T

— Steve Herman (@W7VOA) June 30, 2017
A pool report, circulating on Twitter, described Trump as "annoyed" during the incident.
One reporter was hit in the head with a video camera on the way to the Oval Office and again with a still camera in the room, according to the report.
You can share this story on social media: