House may stall Senate's Russia sanctions even after technical issue resolved
Published time: 30 Jun, 2017 04:19
Edited time: 30 Jun, 2017 08:23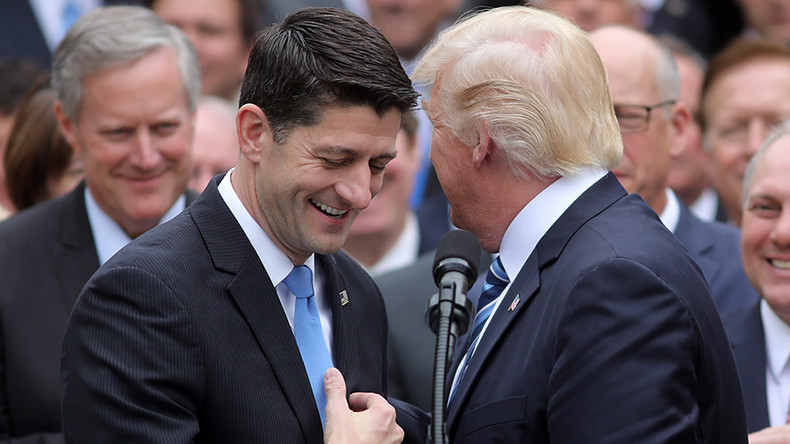 New sanctions drawn up against Russia in the US Senate are no longer snagged by a technical matter, but the bill may still be in limbo, as it faces opposition in the House of Representatives.
On Thursday, the Senate fixed what's known as a "blue slip" violation in its bill to lay further sanctions on Russia. At issue was the constitutional requirement that revenue bills must originate in the House.
Democrats are accusing Republicans of stalling the sanctions in an attempt to please President Donald Trump after his administration officials raised concerns with the bill, according to Reuters.
Republicans in the House say that their reluctance to push the bill forward is purely procedural, Reuters reported.
AshLee Strong, a spokeswoman for Speaker Paul Ryan, said: "The speaker has made clear that we will take up sanctions once the House receives it," according to Reuters.
Reuters reports that because of Congress' recess next week, this delay will mean that the sanctions would not go through until after the G20 summit, where President Donald Trump will meet with Russian President Vladimir Putin. The goal for some lawmakers was to have the sanctions enforced before the meeting, in order to send a message to Putin.
Senate Minority Leader Chuck Schumer (D-New York), on the floor of the Senate on Thursday, said, "I want to put the House on notice: If they water down the bill, weaken the sanctions, add loopholes to the legislation - they will find stiff resistance here in the Senate," Politico reported.
Republicans in the House are venting their reservations about the sanctions.
Representative Mark Meadows (R-North Carolina) has said that Italian, German and British ambassadors are worried about energy-related concerns after hearing from them in regards to the bill.
"It could potentially run into trouble. But it's too early to tell," Meadows said, according to Reuters.
Representative Pete Sessions (R-Texas) mentioned that his home state is central to US energy and wanted assurances about how the bill would affect businesses in the state, Reuters reported.
Previous sanctions put forth into law by former President Barack Obama's executive orders would once again go into effect.
Reuters reported that the sanctions would focus on mining and other industries. It would also affect Russians who are responsible for supplying weapons to the Syrian government, or those in the country who are responsible for cyber attacks.
Also, it creates a review process which would have to be followed up by Trump getting Congress's approval to ease sanctions on Russia.
The sanctions, which were included in the Countering Iran's Destabilizing Activities Act, passed in the Senate on June 15 with a vote tally of 98-2, according to Reuters.