'Total regress': Trump would blame Havana for climate change, if he believed in it – Cuban FM to RT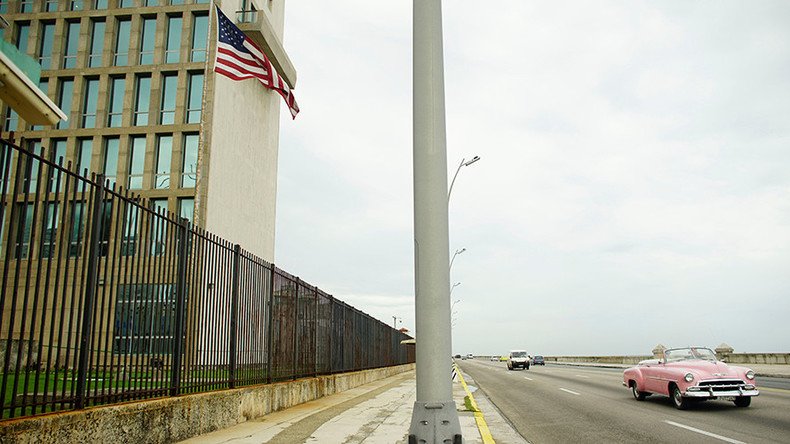 The US president's new restrictive policy towards Cuba infringes on Americans' rights, "repeats the worst of the past" and makes "no common sense" in the modern international climate, Cuban Foreign Minister Bruno Rodriguez Parrilla told RT in an exclusive interview.
The foreign policy now led by US President Donald Trump "is the policy of the 60s of the past century, the policy which is typical of the Cold War. And it's led in the world that has now completely changed," Parrilla said.
The 45th US president "does exactly the same as ten American presidents before him did, apart from the last two years of Obama's presidency."
"It's worth pointing out that there is some inevitable historic tendency in moving towards normalizing relations with Cuba," he said.
Parrilla underlined that US relations with Latin America and the Caribbean region and Washington's policy in this part of the world "cannot be effective" without improving relations with Havana.
READ MORE: Cuba will not return US fugitives to United States – Cuban FM
The current approach chosen by Trump, on the contrary, "is a total regress" and won't make America great again, especially in relation to the travel ban for American citizens which infringes on their rights, Parrilla stated.
"Some American university students can take their friends and go to any part of the world, even to places where war is raging, and international terrorist groups are present. The only place they can't go to is Cuba, their neighboring country, a completely peaceful territory free from any military conflicts," Cuba's foreign minister pointed out.
"It has no common sense whatsoever, and this cannot be logically explained to the people of America," he added.
European companies will also suffer from such an approach from Washington , the Cuban minister said, adding, that he has spoken to a number of his "European colleagues," who are all concerned by the latest worsening in relations between the Caribbean state and the US.
Trump's policy repeats the past "in the worst light, because the world is different now," Parrilla reiterated.
Although the new US administration claims its policy to be "pragmatic," its approach towards Cuba doesn't look as such, the Cuban official said, adding, that US actions are very much "ideologically charged."
"Trump has accused Cuba of almost all problems on our planet. All, apart from global warming, and that's only because he doesn't seem to believe in climate change," Parrilla mused.
Washington has always acted towards Havana with a "carrot and stick method, but Trump's latest decision seems to have dropped the carrot. It's just a stick and a stick now," the Cuban minister concluded.
You can share this story on social media: