US jets shoot down 'Iranian drone' in Syria - coalition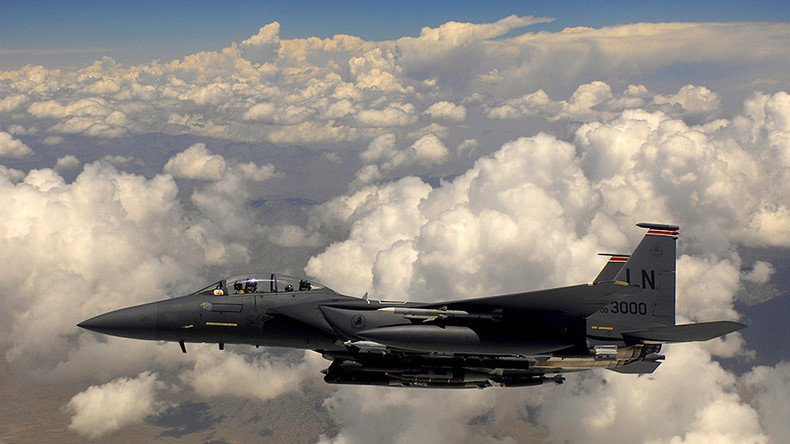 An Iranian-made drone was shot down by a US F-15 fighter jet in southern Syria, near At Tanf, the US-led coalition said. It is the fifth time in the past month the US has struck at forces allied with the Syrian government in the area.
An armed Shaheed-129 UAV "displayed hostile intent and advanced on Coalition forces" at 12:30 am local time on Tuesday, the coalition said in a statement. The drone was observed in the same area where another UAV was shot down on June 8.
Tanf is the town on Syrian border with Jordan where US troops are training Syrian rebels, officially described as "partner ground forces."
The coalition "does not seek to fight Syrian regime, Russian, or pro-regime forces partnered with them, but will not hesitate to defend Coalition or partner forces from any threat," the statement said.

On Sunday, US aircraft shot down a Syrian government jet that was bombing Islamic State (IS, formerly ISIS/ISIL) positions south of Raqqa, in eastern Syria.
In response, Russia announced its air defenses would track all coalition targets west of the Euphrates, and suspend the "deconfliction" hotline. Moscow has accused the US of not using the hotline to prevent the Raqqa incident.
While the US maintains the hotline is still operational, the coalition said it will "not allow pro-regime aircraft to threaten or approach in close proximity to Coalition and partnered forces."
Hostility towards coalition and partner forces "conducting legitimate counter-ISIS operations will not be tolerated," the coalition said. There is no IS-controlled territory in contact with the US-backed forces at Tanf, however.
Reacting to Russia's warning, the Royal Australian Air Force (RAAF) has suspended flights over Syria.
You can share this story on social media: