#HoldTheFloor: Democrats grind Senate to halt in Obamacare repeal bill protest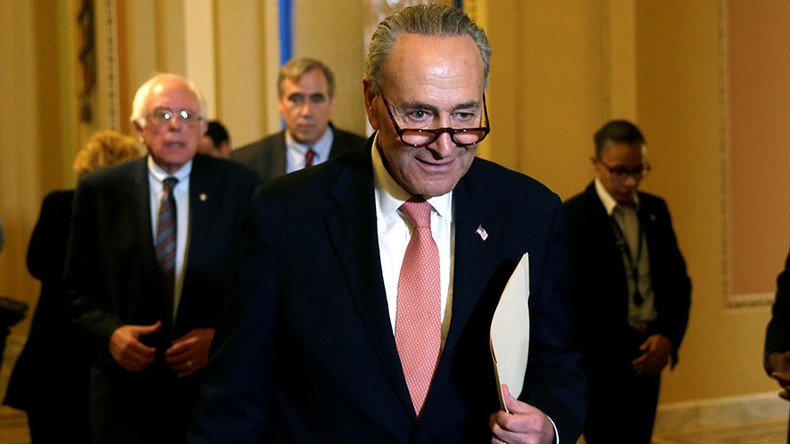 For hours, Democrats have taken over control of the Senate floor to draw attention to the GOP's attempt to draft their health care bill behind closed doors. They don't plan to quit until at least midnight Monday.
Under the direction of Senate Minority Leader Chuck Schumer (D-New York), Democrats on Monday began a series of tactics to disrupt the ordinary business of the upper chamber, including blocking motions that are normally passed unanimously, and preventing committees from holding hearings that last longer than two hours.
Schumer and Democrats called for the GOP's House-passed American Health Care Act (AHCA) bill to go through a hearing process, where members from both parties could debate the bill publicly before it is brought to a vote.
Senate Majority Leader Mitch McConnell (R-Kentucky) rejected the request, and objected to a string of other requests from Democrats aiming to force the bill to a Senate committee or slow down the process.
"Now this is a bill that would likely reorder one-sixth of the American economy and have life-and-death consequences for millions of Americans…and it's being discussed in secret, with no committee hearings, no debate, no amendments, no input from the minority," Schumer said on the Senate floor, according to Buzzfeed.
Schumer pressed McConnell, asking him twice if the Senate would have at least 10 hours to review the bill before it was put to a vote.
"I think we'll have ample opportunity to read and amend the bill," McConnell responded both times.
"I rest my case," Schumer replied.
Other Democrats delivered speeches on how the AHCA would affect the average American and how the Republicans' process of passing the bill compares to the way Democrats passed Obamacare.
Senator Bernie Sanders (I-Vermont) said that Republicans "should be embarrassed" by the way that they have been trying to pass the bill.
"I find it amazing that those same Republicans seem to think it's OK for legislation to be written behind closed doors and not have one single committee hearing," Sanders said, according to the Hill.
Senator Kamala Harris (D-California) said that the Senate bill is nearly identical to the bill that passed through the House, which President Donald Trump reportedly called "mean, mean, mean" during a meeting with Republican Senators last week.
"Even though the authors of this bill have tried to conceal their plan this bill would be nothing short of disaster," Harris said, according to the Hill. "We've been told it's about 80 percent the same as the bill passed by the House. A bill so catastrophic that even the president, who hailed its passage, now called it 'mean.'"
Senator Elizabeth Warren (D-Massachusetts) read letters from her constituents, which she said her office has received.
"[We've gotten] an avalanche of voicemails and phones ringing off the hook. Since last week, I have gotten more than 1,000 phone calls from people who are pleading with me to do whatever I can to stop Republicans," Warren said from the Senate floor, according to the Hill.
Senator Al Franken (D-Minnesota) pointed to the fact that Republicans refuse to hold a hearing or put the bill before a committee after accusing Democrats of trying to rush Obamacare through the legislative process.
"The irony is palpable. Feel the palpable irony... Feel it, Mr. President? Does everybody feel it?" Franken said, according to the Hill.
The Republicans want to have a vote on the AHCA as early as next week, according to Chairman of the Senate Republican Policy Committee, John Barrasso (R-Wyoming).
"I believe we're going to vote before the Fourth of July recess on a healthcare plan, a repeal and replacement of ObamaCare," Barrasso said on Fox News.
You can share this story on social media: