'Visibly queer' teacher of the year Oval Office photo with Trumps becomes instant viral hit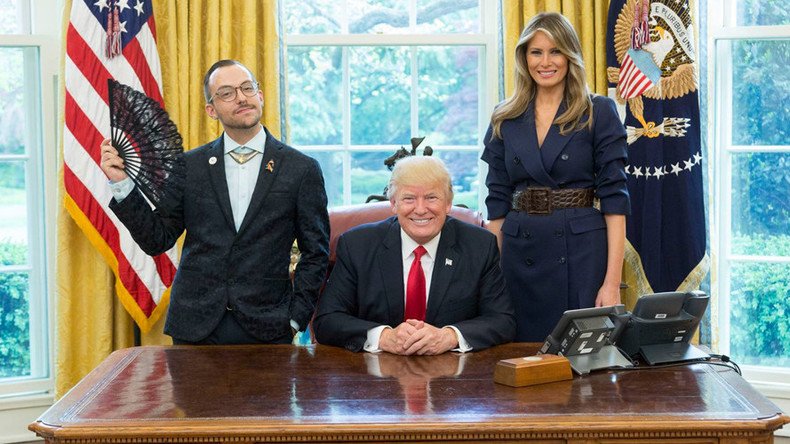 A teacher of the year photoshoot has become an instant hit online after one of the teachers decided to pay tribute to the LGBTQ community by posing next to the President and First Lady Trump in a "sassy" outfit with a fan, which Donald himself commended.
Nikos Giannopoulos, 29, a special education teacher at the Beacon Charter High School for the Arts, was named Rhode Island's teacher of the year 2017. While a laudable achievement in its own right, Giannopoulos used his visit to the White House to make a bold statement on behalf of the LGBTQ community in the United States.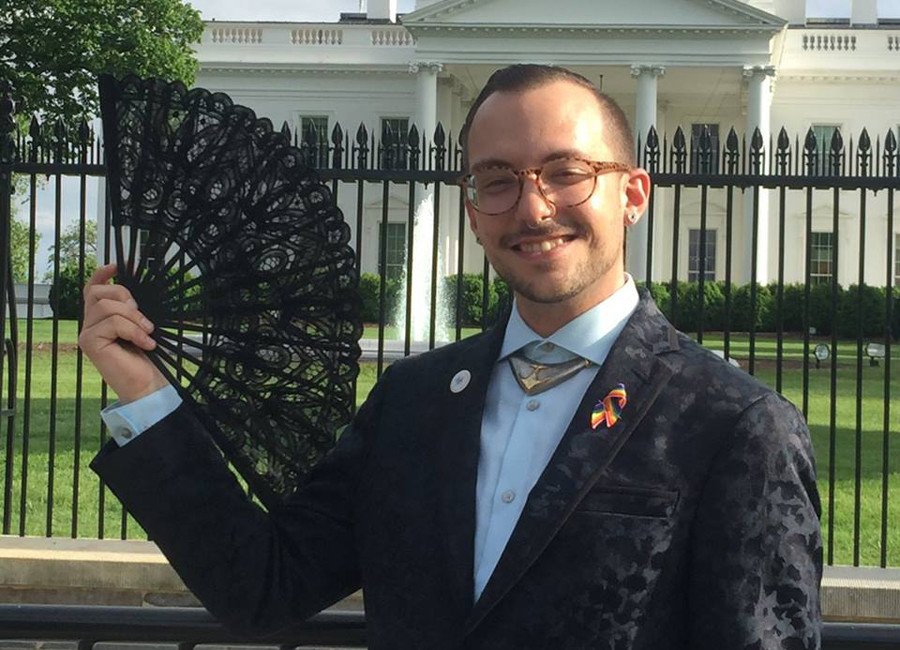 "When I think back to my time in the White House, I will not remember the person seated at the desk," Giannopoulos wrote in a Facebook post, adding that instead he will think of the teachers he met who have fought for the rights of minorities and refugees, and the LGBTQ youth who each have a struggle in their lives.
Wearing a strongly patterned suit, holding a black lace fan, "to celebrate the joy and freedom of gender nonconformity," and adorned with a rainbow LGBTQ pin "to represent gratitude for the LGBTQ community that taught [him] to be proud, bold, and empowered by [his] identity" Giannopoulos first met with Secretary of Education Betsy DeVos before meeting the Trumps in the Oval Office.
"It was a great honor to be received in the Oval Office, and it really meant a lot to me that I was able to express myself authentically and represent for my community," Giannopoulos told The Hill.
Trump did not speak with any of the award-winners at length but merely went through the motions of the photo op.
"Had I been given the opportunity, I would have told him that the pride I feel as an American comes from my freedom to be open and honest about who I am and who I love. I would have told him that queer lives matter and anti-LGBTQ policies have a body count," Giannopoulos said in his Facebook post.
"Brutality is a universal part of the queer experience," he added.
When describing his brief meeting with the Trumps in an interview with NPR, Giannopoulos described an apparently affable and somewhat friendly experience with the POTUS.
"He said, "I love the fan!" And he told me I had great style," Giannopoulos said.
"I just asked the president, "Do you mind if I use the fan for the photo?" He said, "Absolutely, go for it." So I popped my fan and did my pose."
When asked about reaction online, Giannopoulos describes an overwhelmingly positive response.
"From younger people I get a lot of, "You're my hero!" And a lot of "Werk Kween!" which makes my day."
"I haven't really noticed any negative comments on there so far," he added.
"I was visibly queer in the Oval Office, and no one can take that away from me," he told The Washington Post.
President Trump has yet to acknowledge June as LGBT Pride month as his predecessor Barack Obama did.
You can share this story on social media: