F/A-18 fighter jet oxygen systems blamed in deaths of 4 US Navy pilots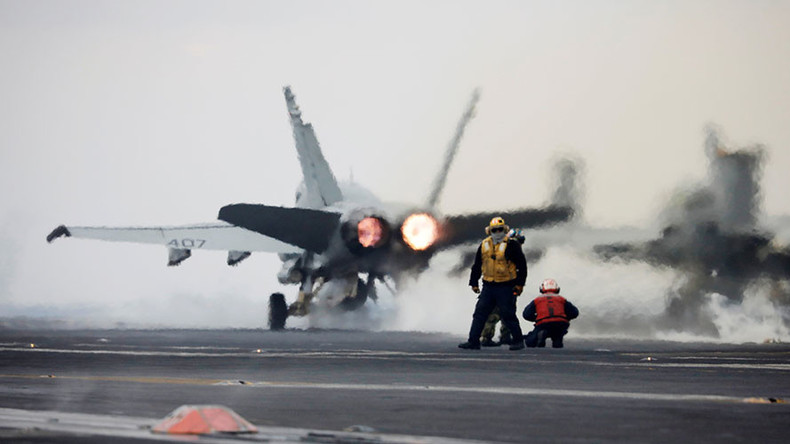 Four US Navy pilot deaths in F/A-18 Hornets are said to have been caused by oxygen system failures. The Navy has released a review of oxygen problems occurring in its fighter jets.
A redacted Navy report was released Thursday, which touches on issues with F/A-18 Hornets and T-45 fighter jets, both experiencing oxygen problems, according to Stars and Stripes.
The review began in late March after Navy instructor pilots at training bases in Kingsville, Texas; Meridian, Mississippi; and Pensacola, Florida, did not want to fly with students in T-45 trainer jets, because "concern about contaminated breathing air reached a tipping point," according to the report.
There has been a high increase in hypoxia and similar incidents among pilots. Hypoxia occurs when not enough oxygen reaches the body, leading to disorientation, loss of consciousness or even death, according to Stars and Stripes.
The report released on Thursday showed that T-45 oxygen system failure incidents rose from 13 in 2012 to 38 in 2016. The report also included the 21 failures that have happened in the first five months of 2017.
System failures for Hornet oxygen systems have risen from 57 in 2012 to 125 in 2016. There were 52 failures in the first five months of 2017 for the F/A-18s.
Oxygen system failures in the T-45 have not caused any deaths to date, but in August 2016, in Kingsville, a student and instructor ejected, which caused them to lose their aircraft. The Navy's conclusion of the crash has been redacted. At least one base in Kingsville is disputing the final result of the report. "Kingsville soundly rejected this potential conclusion, reinforcing the growing belief among aircrew that 'leadership' didn't understand the full scope of the T-45 (oxygen system) problem", according to the report.
This is not the only time this issue has been raised. In April, the US Navy grounded all T-45 Goshawk jet training flights for three days. A pilot instructor commented, "the pilots don't feel safe flying this aircraft." Among the hundreds of student pilots that were affected was 1st Lieutenant Michael Pence, son of Vice President Mike Pence, according to Fox News.
The Navy has yet to find the exact cause for the oxygen problems, but it is narrowing down the points of concern. Pilots in each aircraft breathe through the onboard oxygen generation system (OBOGS), which utilizes a sieve sensitive to humidity and temperature changes, and which can also be affected by water in a way that "any entrapped contaminants could be exchanged for moisture in the sieve bed and the contaminants then released from OBOGS into aircrew breathing air."
The pilots who have been affected by the T-45 oxygen issues have not returned to the skies, as investigations continue, according to Stars and Stripes.