'Detestable lie': Attorney General Sessions rejects charges of collusion with Russia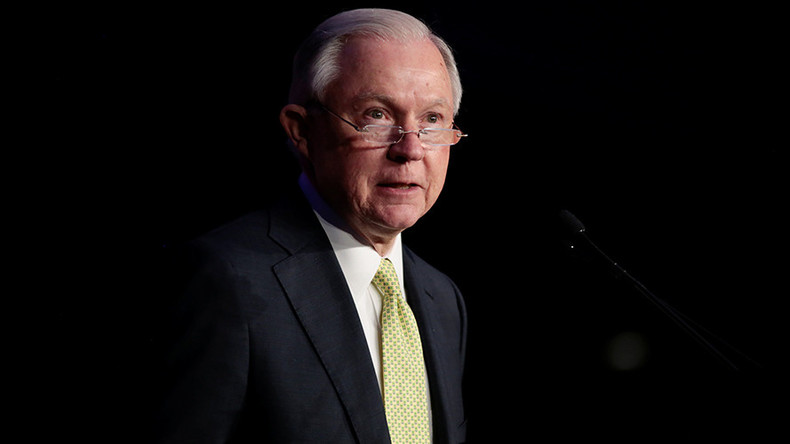 US Attorney General Jeff Sessions appeared before the Senate Intelligence Committee to testify about the firing of FBI Director James Comey and allegations of contacts between Russian officials and Trump campaign associates, including himself.
Committee chairman Senator Richard Burr (R-North Carolina) framed the hearing as giving Sessions an opportunity to "separate fact from fiction."
Sessions said it was critically important to investigate allegations of Russian interference during the election because such interference "can never be tolerated," and encouraged the committee to get to the bottom of the matter.
He said he had no meeting with the Russians at the Mayflower Hotel, but did attend a reception with at least two dozen people - including President Trump - and had conversations during the pre-speech reception, but doesn't remember talking to any Russians.
"Any suggestions I was aware of any collusion, or to undermine integrity of the democratic process, is an appalling and detestable lie," said Sessions.
Before he was nominated for Attorney General, Sessions had two meetings with Russian Ambassador Sergey Kislyak and other foreign ambassadors. He acknowledged those two meetings, but said nothing that happened was inappropriate.
As to why he recused himself from the Russia investigation, Sessions said a Department of Justice regulation, 28 CFR 45.2, states that an "employee participating in a criminal prosecution with a personal relationship…with a political campaign, closely identified with a candidate or an elected official…" must recuse himself.
Sessions said he met with career department officials, including senior ethics officials, about his recusal. From that point in February until the formal recusal, he did not access any details, and received only limited info that career officials determined was necessary for him to make a decision.
"I don't even read that carefully, and took no action whatsoever in regard to that investigation," he said.
Asked about the firing of FBI Director James Comey and his recollection of conversations with Comey, Sessions said Comey did not provide any substance of conversations with the president, but he did express concern about proper communications with the White House and Trump.
"There is nothing wrong with President having a conversation with director of the FBI," Sessions said, noting that discussing ongoing investigations would be improper, however.


Answering Senator Dianne Feinstein (D-California) about the decision to fire Comey, Sessions gave a response he used several other times during the hearing.
"I am not able to discuss, confirm or deny private conversations I may have had with the president about this or any other matter," he said, citing a longstanding rule at the Department of Justice.
He said he was involved in Comey's firing because he oversees the FBI. To suggest that a recusal from a single specific investigation would render him unable to manage the leadership of the FBI would be "absurd," Sessions said.

Sessions and deputy AG Rod Rosenstein recommended the firing last month, raising questions about whether he violated his recusal from the investigation into Trump campaign ties to Russia. But Sessions says he had concerns about Comey's job performance even before he was confirmed.
READ MORE: 'Erosion of confidence': White House addresses Comey firing & fallout
Sessions called Comey's handling of the Clinton email case a "usurpation'' of DOJ authority.
Comey's decision to announce the results of the investigation without Justice Department approval was "a stunning development" because "the FBI is the investigative team. They don't decide prosecution," Sessions said.

He called Comey's move "a thunderous thing" and it caused him to conclude "that a fresh start was appropriate."
Democrats on the panel repeatedly pressed Sessions on his refusal to share the contents of his private conversations with the president.
"It's my judgment it would be inappropriate for me to answer and reveal private conversations when he has not had full opportunity to review questions and approve such an answer, other privileges that could be invoked, investigation of special counsel," said the attorney general.
The issue was taken up by Senator Angus King (I, Maine) who asked whether the president had invoked executive privilege
"He has not," Sessions replied.
King then asked about the legal basis for Sessions asserting the right not to share the contents of his conversations with the president.
"What we try to do, most cabinet officials, is protect president's right to do so, if it comes to a point the issue is clear and dispute about it, at some point, president will either assert or not, or some other privilege would be asserted," said Sessions. "At this point it is premature for me to deny the president a full and intelligent choice about executive privilege."
Asked by Senator John Cornyn (R-Texas) whether it was true that the Russian investigation didn't factor into the decision to fire Comey, Sessions agreed. The decision was largely based on the former FBI director's July 5, 2016 press conference announcing the closing of the Clinton email probe.
"A former attorney general, Bill Barr, wrote in an op-ed recently he assumed former attorney general Loretta Lynch had urged Comey to make announcement so she wouldn't have to do it," Sessions told the committee. "But it appears he did so without approval, a stunning thing that violates fundamental powers."
Sessions said that was an additional confirmation the director's thinking was not clear.
You can share this story on social media: