New York holds Puerto Rico Day parade as island votes on US statehood (PHOTOS, VIDEOS)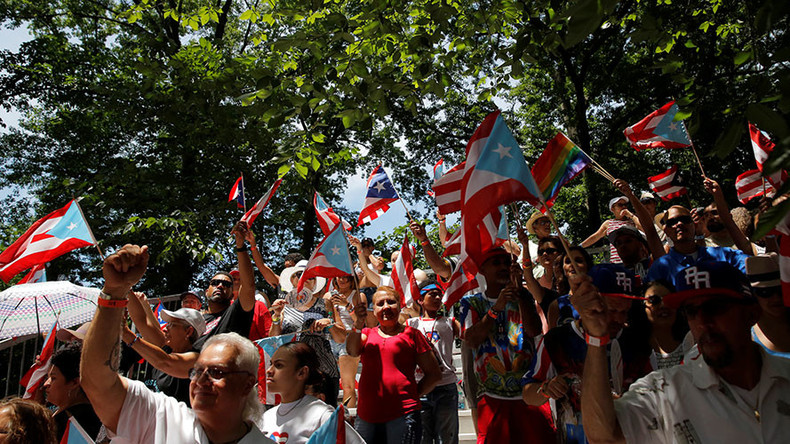 Around one million people flooded the streets of Manhattan for the annual Puerto Rican Day parade on the same day the Caribbean island went to polls in a non-binding referendum to decide whether or not to join the Union as the 51st state.
Red, white, and blue filled the entire route of the procession along Fifth Avenue from 44th to 79th Streets, as New Yorkers marked the complicated history of the unincorporated territory of the United States.
While many danced the salsa and cheered the procession, a small portion of the crowd booed the appearance Oscar Lopez Rivera, a political activist, who spent 35 years in prison for his involvement with the Armed Forces of National Liberation (FALN), a group that has for decades struggled for independence of the island nation.
Released last month from prison, after the remainder of his 55-year federal prison sentence was commuted by former President Barack Obama, Rivera reveled among his supporters who fought for his release.
Rivera is hailed by many as a national hero and a freedom fighter, with signs reading "Oscar Lopez Rivera is our Mandela" seen in the crowd. Chanting "Puerto Rico Not for Sale," people marched in front of their idol, while others called on the US to release of the nation's "political prisoners."
Recalling FALN's notorious terrorist past and more than 120 bomb attacks on US targets, a number of US groups, including the NYPD Hispanic Society and the Rafael Ramos Foundation boycotted the parade. New York Governor Andrew Cuomo also skipped the event. But despite the political controversy surrounding Rivera's appearance, the mood was festive.
While the Big Apple has been staging the Puerto Rican parade since 1958, Sunday's event coincided with a referendum on Puerto Rico's future.
The plebiscite offered three choices on the ballot: statehood, independence or remaining a self-governing territory in the US commonwealth.
Following the ballot, Puerto Rico's governor announced that his nation has overwhelmingly voted 'yes' in the non-binding referendum to join the US as the 51st state.
The US Congress will now decide the fate of its Spanish-speaking territory that is currently in economic turmoil.