Up to 100 girls likely involved in landmark genital mutilation case – US govt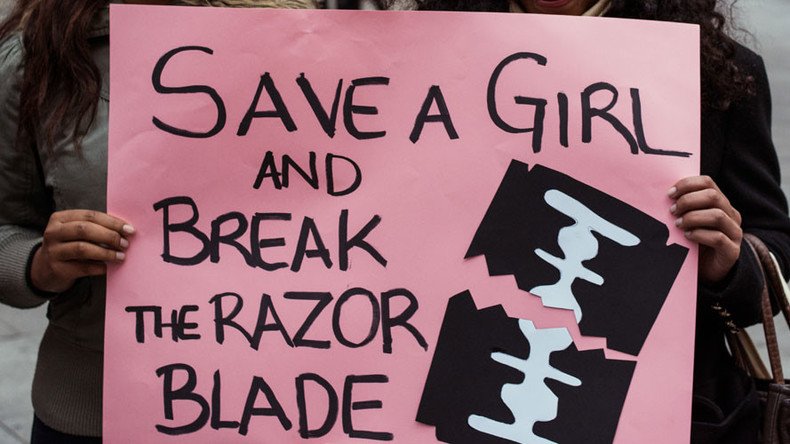 The US government estimates as many as 100 girls may have had their genitals cut at the hands of a Detroit, Michigan doctor and his co-conspirators, a federal prosecutor said during a court hearing.
Assistant US Attorney Sara Woodward disclosed the information while trying to convince the judge to keep the doctor and his wife locked up.
"Due to the secretive nature of this procedure, we are unlikely to ever know how many children were cut by Dr. [Jumana] Nagarwala," US Attorney Woodward said, referring to the lead defendant in the case, according to the Detroit Free Press.
"The Minnesota victims were not the first victims," she added.
Woodward told the court on Wednesday that the government estimate is conservative and is based on Dr. Fakhruddin Attar's alleged admission to authorities that he let Dr. Nagarwala use his clinic up to six times a year to treat children for genital rashes.
Attar's lawyer, Mary Chartier, scoffed at the claim.
"I think the government has overstated so many aspects of this case and this is one more example of overreaching," Chartier said after the hearing, reported the Detroit Free Press.
Defense lawyers are said to be considering arguing that female genital mutilation is a right under religious freedom protected by the First Amendment of the US Constitution.
The comments came during a landmark genital mutilation criminal case in which prosecutors accuse two Detroit doctors and one of their wives, members of a small Muslim sect, Dawoodi Bohra, of multiple federal charges for cutting two-seven-year-old Minnesota girls at a Livonia clinic in February.
Prosecutors allege that the defendants were involved in cutting numerous girls over a 12-year period.
Against the prosecutors' wishes, US District Judge Bernard Friedman granted bond to two other defendants in the case: Dr. Attar, 53, of Farmington Hills - who is accused of letting Dr. Nagarwala use his clinic to perform genital cutting procedures on minor girls - and his wife, Farida Attar, 50, who is accused of holding the girls' hands during the procedure to keep them from squirming and to calm them.
Judge Friedman said he believes the case involves "serious" charges and said in granting bond that the two defendants have to surrender their passports, that they will be under house arrest with GPS tethers, and are not allowed to communicate with anyone except family members or their lawyers.
The Attars have been in jail for more than a month since being charged in April.
Nagarwala's lawyer, Shannon Smith, will also be seeking for her client to be released on bond.
Female genital mutilation has been banned in the US since 1996. The World Health Organization (WHO) recognizes it as a violation of the human rights of girls and women.
The practice involves removing part of the clitoris or all the clitoral hood, and is common in Africa, Asia and the Middle East. Some members claim the practice is part of their religious rite of passage.
Those against the practice say it is done to suppress female sexuality in an attempt to reduce sexual pleasure and promiscuity.
Victims describe the procedure as painful and say it results in a variety of effects on their physical and mental health throughout their lives, according to the federal criminal complaint.
If convicted, Nagarwala and Dr. Attar face up to life in prison, while Attar's wife faces up to 20 years. The most serious charges involve transporting an individual with intent to engage in criminal sexual activity, which carries a minimum of 10 years and a maximum of life in prison.
The trial is set for October 10.
You can share this story on social media: