Alarms go off, crews take cover at Hanford nuclear site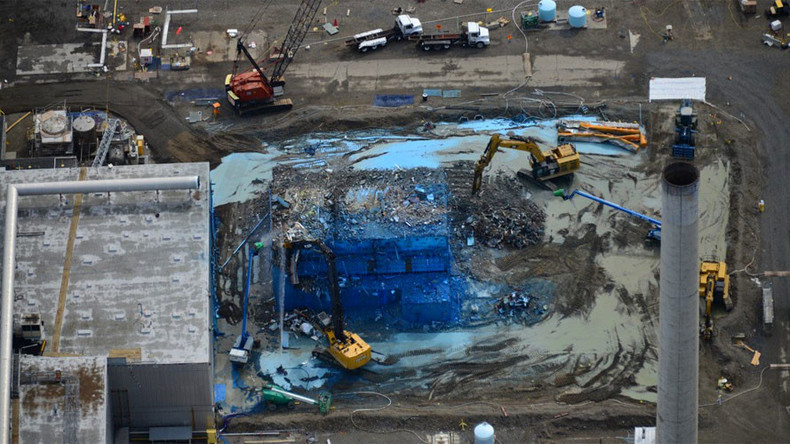 Two air monitor alarms went off in a demolition area of the Hanford Site's Plutonium Finishing Plant, causing workers to take cover less than a month after a tunnel collapse at the Richland, Washington facility, the Department of Energy-owned site said.
The Continuous Air Monitoring alarms went off just before 8am local time at the site. The demolition crews in the area immediately stopped work, took cover "as a precaution" and applied adhesive paint as a fixative material that "is used as part of demolition to control contamination," the Hanford Site said in a series of tweets.
Contamination is expected in the demolition area, and the air monitors are one of the tools used to ensure employees are protected.

— Hanford Site (@HanfordSite) June 8, 2017
Crews found radioactive contamination as they were removing a gallery glove box in a demolition area that was used to process plutonium throughout the Cold War, Hanford said in an email sent to employees. Recovery crews have entered the area to conduct additional surveys and apply additional fixatives "to mitigate any further contamination spread."
The contamination was found on the stairs to the mask station where workers put on protective gear, according to KING's Susannah Frame.
No injuries have been reported. There is no timeline for how long the recovery crews will take to complete their tasks in the demolition area.
A veteran Hanford worker told Frame that the incident was not unexpected because CH2M Hill, an engineering consultant company, was "rushing the demolition" and "not listening to workers."
The alarms are just the latest in a series of mishaps at Hanford, which has been leaking toxic radioactive material for years.
Thursday's incident came almost exactly a month after the Department of Energy declared an emergency at Hanford due to a cave-in of a tunnel used to store radioactive materials and equipment.
On May 9, a portion of a tunnel near the plutonium-uranium extraction plant (PUREX) collapsed, most likely from vibrations produced by nearby road work. About 3,000 workers initially took cover at the 200 East Area of the sprawling complex before the order was expanded to the entire complex, which is about half the size of Rhode Island.
In January, a report found that radioactive contamination continues spreading inside the plant's Reduction-Oxidation Complex (REDOX) and could be worsened as the facility deteriorates.
A number of current and former Hanford workers suffer from serious medical conditions as a result of exposure to toxic waste leaks and "burps" of radiation at the complex, RT America reported in April 2016.
Hanford is located on the Columbia River in eastern Washington, near the border with Oregon. Built during World War II as part of the Manhattan Project to develop the nuclear bomb, it still contains roughly 53 million gallons – over 2,600 rail cars – worth of high-level nuclear waste, left from the production of plutonium for the US nuclear weapons program.
The plant processed 24,000 tons of irradiated uranium fuel rods to remove plutonium for nuclear weapons during the Cold War. It hasn't been operational since 1967, but is not scheduled to be dismantled for at least another 15 years, triggering concerns that conditions will continue to worsen given its current state.
You can share this story on social media: