Comey testimony on Flynn probe is 'BS' – Donald Trump Jr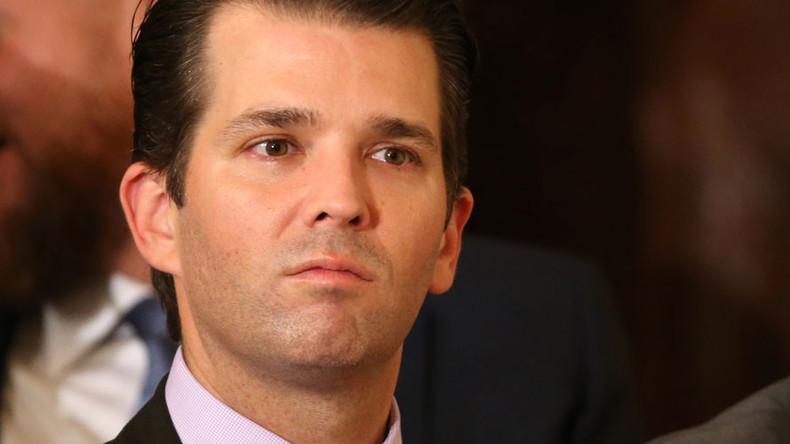 Donald Trump Jr lambasted the 'BS' testimony of former FBI Director James Comey to the Senate Intelligence Committee in a series of irate tweets during Thursday's hearing.
The eyes of the world were drawn to Comey's testimony as many wondered if US President Donald Trump – the subject of many of the questions at the hearing – would respond to the ex-FBI director's remarks.
Ex-director Comey is before the committee to answer questions about his firing by Trump last month, and whether the president pressured him to abandon an investigation into ties between his administration and Russia.
The president has, so far, remained silent, however, the same can't be said of his son Donald Jr who hit social media to tear apart Comey's statements.
First of all, Trump Jr quoted a tweet from the Republican party which said President Trump "never asked to stop the investigation and Russia didn't change a single vote."
READ MORE: WATCH LIVE: Ex-FBI chief James Comey testifies about conversations with Trump
He then labelled Comey's remarks on former National Security Advisor Michael Flynn, who resigned following reports that he communicated with the Russian ambassador, as "BS"
"Flynn stuff is BS in context 2 guys talking about a guy they both know well. I hear "I hope nothing happens but you have to do your job," Donald Jr tweeted.
"Very far from any kind of coercion or influence and certainly not obstruction!
"Knowing my father for 39 years when he 'orders or tells' you to do something there is no ambiguity, you will know exactly what he means."
Trump Jr also focused on Comey's remarks in which the former FBI director said he asked a friend to leak the content of a memo he wrote about his first meeting with Trump to the New York Times.