Virgin Galactic conducts 5th glide-flight test with VSS Unity, says it's 'ready' for next phase
Published time: 2 Jun, 2017 01:51
Edited time: 2 Jun, 2017 18:10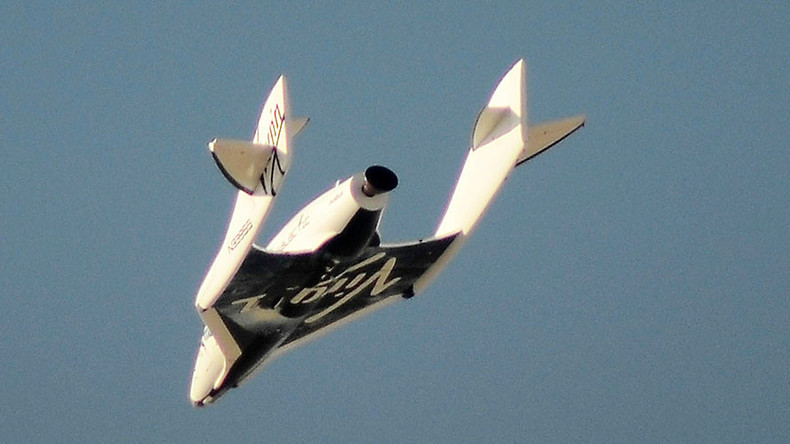 Virgin Galactic successfully conducted its fifth unpowered glide flight, adding weight to their spacecraft to test maneuverability for rocket-powered flights. The company says it is ready to move on to the next phase of tests.
On Thursday, Virgin Galactic announced it had successfully conducted its fifth "glide flight" test of the world's first commercial spaceline, the VSS Unity suborbital rocket-powered spaceplane.
The VSS Unity spacecraft was carried into the sky by WhiteKnightTwo, a carrier aircraft. Once it reached a certain altitude, the VSS Unity was released and the pilots guided the spaceplane down to a runway, landing in Mojave, California.
The VSS Unity was piloted by Dave Mackay and CJ Sturckow, who tested the maneuverability of the spacecraft with 1,000 pounds of water weight added to the rear of the spaceship's fuselage.

During the test, the pilots released the water on their descent to test the "handling characteristics as the vehicle's center of gravity moved forward." The test was conducted to replicate the displacement that would occur during the spacecraft's eventual rocket-powered flight.
"That enabled us to explore the flight conditions we will experience during rocket-powered flights," Virgin Galactic representatives said. "Unity completed the flight with a safe and smooth landing in its lighter-weight configuration."
The company called the test an "important milestone" that was "toward the end of the initial glide test portion of the program." After analyzing the data from Thursday's flight, the company says it will begin preparing for the first rocket-powered tests.

"As always, meticulous preparation and a focus on safety will determine next steps and timelines, but we expect to be back in the air in the not-too-distant future," the company said.
Last month, Virgin Galactic first successfully demonstrated the VSS Unity's "feathering" re-entry system, where the craft's twin tails fold up and create a drag that allows the spacecraft to slow down for a safe descent on reentry.
READ MORE: Branson sees 'sexy space hotels' orbiting Earth & offering trips around Moon
Once Virgin Galactic finishes its test campaign, the VSS Unity will be ready to take customers on trips into space, where they can spend a few minutes looking down on Earth and experiencing weightlessness.
Around 650 customers have already purchased tickets, which are currently priced at $250,000 a piece, according to Space News. Stephen Attenborough, commercial director of Virgin Galactic, estimates that flights will be backlogged until 2021.