19 arrested protesting deportations, family detention outside White House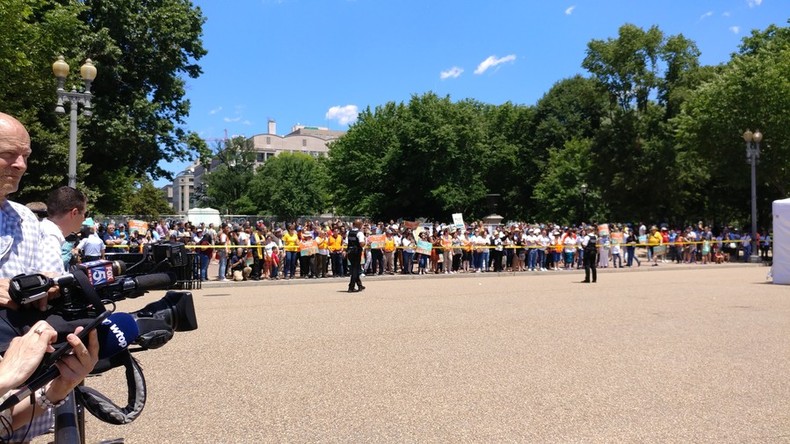 More than 100 protesters rallied against deportations and other immigration policies of the Trump administration in front of the White House. Nineteen were arrested after refusing Secret Service orders to disperse.
The largest immigrant advocacy group in the Mid-Atlantic region, CASA de Maryland, held a rally in Lafayette Park in Washington, DC on Thursday. The park is the main venue from which tourists can view the White House from a distance.
Nineteen activists were arrested after refusing to leave the sidewalk in front of the White House, including "community and faith leaders," the organization tweeted.
"We're protesting deportations and family detention," Drew, an activist at CASA, told RT.
Members of the SEIU union, the movement against the Dakota Access Pipeline, and the United Church of Christ also took part in the protest, using the hashtags #NoBanWallNoRaids and #KeepingFamiliesTogether.
"I think it's really critical at this time to not be complacent, to not let injustices get normalized, and to let people know that immigration does not happen in a vacuum; people don't just uproot themselves for nothing. What's going on here is multiple violations of human rights," said Zephyr, also of CASA.
This is the second demonstration against deportations in front of the White House to see arrests since the inauguration of Donald Trump.
"This is a very public, very iconic location that we're at – so a lot of people have been coming up to us, you know, out-of-towners, tourists, asking us and people even telling us that they may not necessarily agree with what it is that we're protesting against, but respect that we are out here and having our voices heard and giving voice to a community that is often voiceless in the administration," Chris, another member of CASA, told RT.
Earlier in the morning, DC residents reported the distribution of fake fliers presented as though they were made by Immigration and Customs Enforcement (ICE) in the South West city quadrant. The fliers encouraged residents to report undocumented migrants to ICE.
DC Mayor Muriel Bowser took to Twitter to call on her constituents to "tear down" the flyers, which she said were "clearly meant to scare and divide our residents."
Alexander Rubinstein, RT
You can share this story on social media: