US tests ICBM interceptor missile amid rising tensions with North Korea (VIDEO)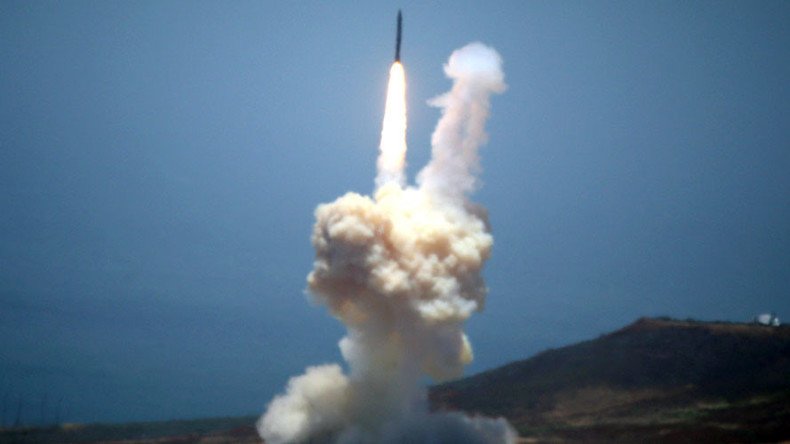 The first ever test of an interceptor intended to shoot down intercontinental ballistic missiles (ICBM) has been successful, the US Missile Defense Agency (MDA) said. The long-planned trial comes amid increased tensions with North Korea.
A Ground-based Midcourse Defense (GMD) interceptor was fired from the Vandenberg Air Force Base in California on Tuesday afternoon. The target vehicle, designed to resemble an ICBM, took off from Kwajalein Atoll in the Marshall Islands. The intercept took place high above the Pacific Ocean, the agency said.
Kwajalein is approximately 8,000 km (4,972 miles) from Los Angeles, California. The Pentagon classifies any missile with a range greater than 3,400 miles as an ICBM.
Tuesday's test was planned "years in advance" and is not a direct response to recent North Korean tests of ballistic missiles, a Pentagon official who spoke on condition of anonymity told Stars and Stripes last week.
The test interceptor is equipped with an Exo-atmospheric Kill Vehicle (EKV), which is supposed to destroy the target vehicle with a direct hit.
"This will be the first test of an upgraded kill vehicle, and the first test against an ICBM-class target," MDA spokesman Chris Johnson said in a statement prior to the launch.
Deployed in 2004 by the Bush administration, the GMD has never been used it combat. This is the first intercept test since 2014. There are currently 32 interceptor missiles in Fort Greely, Alaska and four at Vandenberg. Eight more are supposed to come on-line by the end of this year, AP reported.
READ MORE: Long shot: Pentagon to test ICBM interceptor amid North Korea tensions
While North Korea currently lacks the capability to hit the US mainland, the US military intelligence chief recently warned that such a development is only a matter of time.
You can share this story on social media: