California students arrested for online threats to bomb high school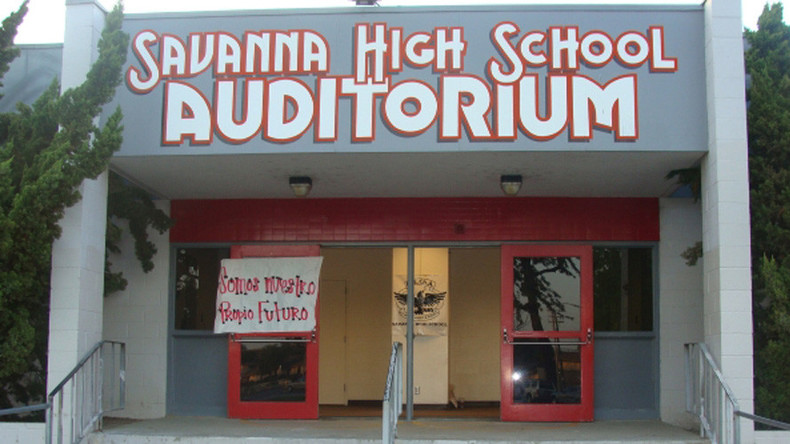 Two teenagers were arrested for plotting "acts of violence" at their high school in Anaheim, California, "including the placing of bombs and committing shootings," police said. The authorities have not found any weaponry that could be used in the plot.
On Thursday morning, just prior to the beginning of classes at Savanna High School, the Anaheim Police Department arrested the teenagers, according to police, on suspicion of making criminal threats. The 16-year-old boys are not being identified because they are minors.
The teenagers are suspected of "plotting to commit acts of violence on campus, including the placing of bombs and committing shootings," Anaheim PD Sergeant Daron Wyatt said, adding there was no clear motive for the plot.
School administrators had notified police upon learning of alleged threats the boys, both Juniors at the school, had made online, Wyatt said, particularly on Instagram and Kik.
"Both students were located and contacted prior to the start of school," Wyatt said, according to OC Weekly. "Based on information and evidence developed during the preliminary investigation, the two students were arrested for making criminal threats and will be booked at Orange County Juvenile Hall."
However, a search of the boys' homes yielded no weapons or explosives, Wyatt said, adding that authorities found nothing to infer the teens had the means to carry out their alleged threats.
The attack on campus was allegedly planned for Thursday, the day the teens were arrested. Savanna High School's graduation ceremony was planned for Thursday night at an off-campus location, according to KNBC.
Authorities are investigating the matter and whether any other students were "peripherally involved" in the plans, Wyatt said.