Voice of America faces budget cuts, vows to fight 'Russian disinformation'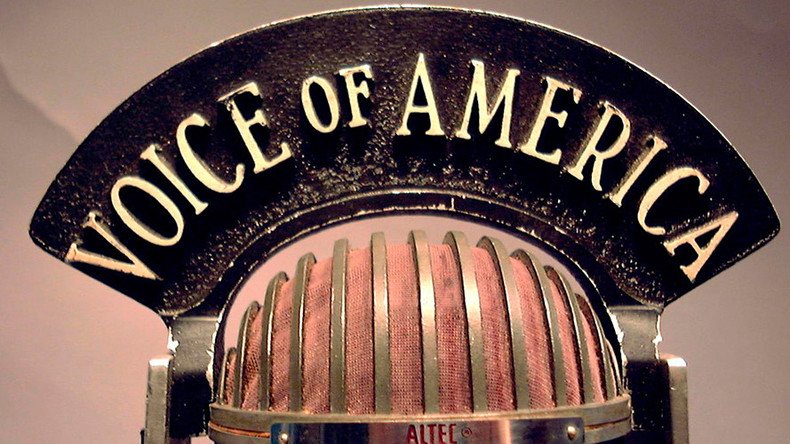 The US government's broadcasting agency may shut down some services if it loses a suggested $63 million in funding under President Donald Trump's proposed budget, but said it remains committed to countering "Russian disinformation" and other programs.
The 2018 budget proposal for the Broadcasting Board of Governors (BBG) calls for $685 million in funding, down from this year's $748 million. The largest single cuts would come out of the Voice of America ($21.3 million) and Radio Free Europe/Radio Liberty ($10.3 million) services.
"Despite reductions in spending, we are committed to our mission, impacting the lives of hundreds of millions of people around the world by providing accurate, unbiased, and uncensored news and information," BBG CEO John F. Lansing said in a statement.
The budget prioritizes funding for US foreign policy goals, such as "combatting violent extremism, countering Russian disinformation, and enhancing programming for North Korean audiences," the agency said.
VOA in Macedonia would close shop completely, right as a violent political crisis pits Russia info warfare vs West https://t.co/SYMIKfZfvK

— Lachlan Markay (@lachlan) May 24, 2017
However, the cuts will require "program and staffing reductions" across all networks, including VOA, RFE/RL, Radio Free Asia, Middle East Broadcasting Networks, the Office of Cuba Broadcasting and the International Broadcasting Bureau.
"This includes reducing, and in some cases, eliminating certain language service capacities," the agency said without elaborating.
One of the services would be VOA Macedonian, according to the Daily Beast, which somehow obtained access to the live-stream of a private event where Lansing broke the news to BBG employees on Tuesday.
"It's hard for me to even fathom at this point eliminating the service that is keeping things together, the only beacon of independent journalism in the country," the Beast quotes a VOA Macedonian employee, adding that she "appeared visibly distressed" by the proposed budget cuts.
Lansing said that the agency will have a chance to "explain our point of view and the dynamic change in Macedonia to our stakeholders."
The former Yugoslav republic has been in the throes of a constitutional crisis for months, with ethnic Albanians demanding federalization and the US seemingly backing a coalition government between Albanian parties and the minority socialists. A number of Republican senators wrote to the State Department in March, demanding an explanation for US interference in the country's internal affairs.
The BBG was created in 1999, inheriting the broadcasting functions of the US Information Agency (established in 1953), but has been criticized as ineffective and in need of far-reaching reforms. Testifying before the House in 2013, then-Secretary of State Hillary Clinton called it "practically defunct" in terms of capacity to tell the US message around the world.
In January this year, former Director of National Intelligence James Clapper told the Senate that he would favor a "USIA on steroids" to fight the information war against Russia.
You can share this story on social media: