Texas congressman threatened with lynching after calling for Trump's impeachment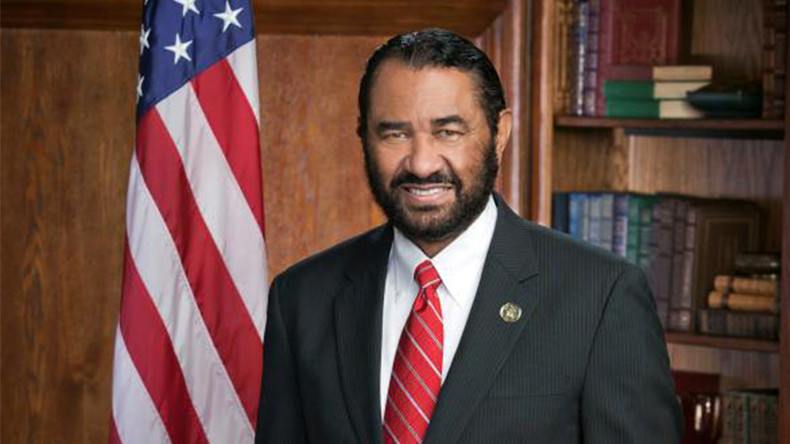 Democratic Representative from Texas Al Green played recordings of racially abusive and threatening voicemails he says he received after calling for Trump's impeachment at a town hall meeting Saturday.
READ MORE: Lone congressman calls to impeach Trump on House Floor: Does it matter?
The two recordings played by Green included graphic racial slurs and threats to hang the lawmaker.
Green told those gathered at the southwest Houston meeting that he would not be intimidated: "We are not going to allow this to cause us to deviate from what we believe to be the right thing to do and that is to proceed with the impeachment of President Trump."
"no amounts of threats or intimidation will stop us...I promise you," Green says

— Tim Murphy (@timothypmurphy) May 20, 2017
Green became the first member of Congress to call for Trump's impeachment from the House floor on Wednesday.
"President Trump is not above the law. He has committed an impeachable act and must be charged," Green said in a statement, citing the firing of FBI Director James Comey as one of the chief reasons for his impeachment.
"Our mantra should be 'I.T.N. – Impeach Trump Now,'" he said.
READ MORE: Trump fires FBI Director James Comey
A third abusive message shared on Green's YouTube channel describes Trump as "wonderful" and "loving" and calls Green "disgusting" and "pathetic."
In the recording, the caller also refers to the murder of Democratic National Committee (DNC) staffer Seth Rich and says allegations of Russia being involved in the leaking of the DNC emails are "fake."
READ MORE: Wikileaks offers $20k reward over dead DNC staffer, but won't confirm he leaked emails
You can share this story on social media: