US-led airstrikes on Syrian forces hit tank & construction equipment, casualties likely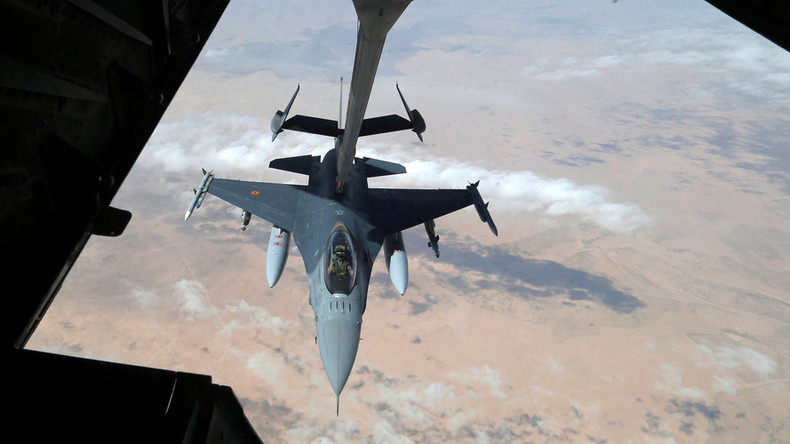 US-led coalition airstrikes on Syrian pro-government forces near the city of An Tanf hit a tank, a bulldozer and construction equipment. US Central Command did not rule out casualties, but told RT it would not report a body count.
"If they were being used," a US Central Command spokesman Josh Jacques told RT, casualties would be likely, but he said he is "not speculating."
CentCom told RT that an assessment of Thursday's attack is being conducted, but that even when it is completed, there would not be an exact body count reported, because they don't have ground access.
The International Coalition for Operation Inherent Resolve said the Syrian forces "posed a threat" to troops of the US and the coalition. The Tanf base is located near the borders of Syria, Iraq and Jordan.
Unspecified Syrian pro-government forces allegedly entered a so-called "de-confliction" zone in the Homs Governorate and clashed with Pentagon-backed Maghawir Al-Thawra militants, formerly known as the New Syrian Army, which called in coalition air support.
The issue of establishing and expanding the de-escalation zones dominated discussions between Russian Foreign Minister Sergey Lavrov and US President Donald Trump at the White House last week.
"At the center of our conversation was the initiative which President Trump voiced at an early stage of his presidency, namely the creation of security zones or zones of de-escalation, in which there will be no fighting, except against the terrorists, who need to be expelled from there," Lavrov said.
US Defense Secretary James Mattis said that the airstrikes did not represent Washington increasing its role in the Syrian civil war.