Tesla workers straining under long hours, low pay and injuries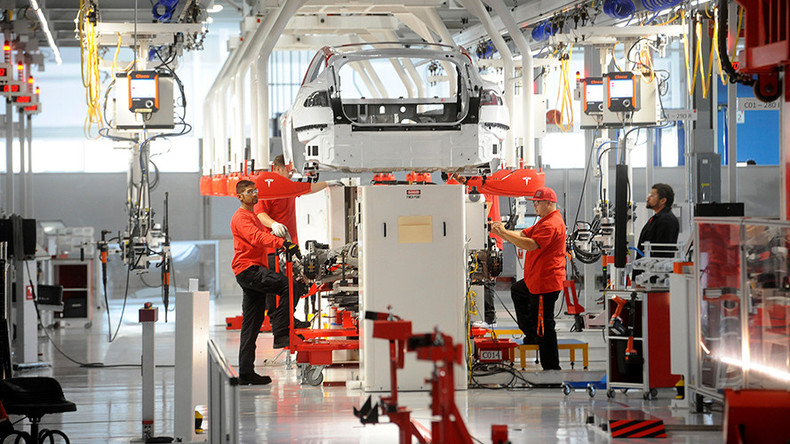 Trying to meet the ambitious goals of production, Tesla car factory workers complain of intense work pressure, long working days, and lower than average pay. One worker has pressed for union representation.
The revelations come from current and former Tesla workers who talked about the pressure to meet Tesla CEO Elon Musk's ambitious production goals.
"I've seen people pass out, hit the floor like a pancake and smash their face open," Jonathan Galescu, a production technician at Tesla, told the Guardian. "They just send us to work around him while he's still laying on the floor."
Several workers said they've seen co-workers collapse or be taken away in ambulances.
The Fremont, California car plant employs 10,000 workers, often working mandatory overtime to meet the company's projection to make 500,000 electric cars in 2018, a 485 percent increase from 2016.
The company manufacturers all its vehicles from the plant in Fremont, and delivered about 76,000 cars worldwide last year.
In February, Tesla worker Jose Moran wrote publicly criticizing the mandatory overtime, high rates of injury and low wages at the factory.
"I think our management team would agree that our plant doesn't function as well as it could, but until now they've underestimated the value of listening to employees," wrote Moran, who has worked at the plant for four years. "We need better organization in the plant, and I, along with many of my coworkers, believe we achieve that by coming together and forming a union."
He said most of his 5,000 plus coworkers work well over 40 hours a week, that machinery is not ergonomically compatible, and there is a shortage of manpower and "a constant push to work faster to meet production goals."
He said workers were afraid to report injuries over fears concerned they would be considered a complainer or bad worker by management.
Moran said at one period six out of eight people in his team were on medical leave due to various work-related injuries. He said most workers earn between $17 and $21 an hour, living in the highest cost of living in the US, while the average auto worker earns $25.58 an hour.
"Tesla isn't a startup any more. It's here to stay. Workers are ready to help make the company more successful and a better place to work. Just as CEO Elon Musk is a respected champion for green energy and innovation. I hope he can also become a champion for his employees," wrote Moran.
At the time, Musk thought the post was "morally outrageous." There are allegations that Moran was being paid by the United Auto Workers union to help create a union at the plant. Moran said he did approach the union after working at the plant for a year because he was concerned about the mandatory overtime that required workers to work six days a week at 12 hours or more a day – a grind that led to preventable accidents.
Moran said he was just voicing his opinion, and Musk discrediting him was disappointing.
Documents show ambulances were called more than 100 times since 2014 for workers experiencing fainting spells, dizziness, seizures, abnormal briefing and chest pains, according to the Guardian.
In 2013, three workers were injured and taken to hospital with second-degree burns during an accident when a low-pressure aluminium casting press machine failed and spilled hot metal on workers, according to the Mercury News. OSHA fined the company $86,000.
Musk told the Guardian admitted the long hours and hard work, but said he cared about his employees' health and wellbeing, and the company's safety record has significantly improved over the last year.
"We're a money-losing corporation," Elon Musk, CEO of Tesla, told the Guardian. "This is not some situation example, where we are just greedy capitalists who decided to skimp on safety in order to have more profits and dividends and that kind of thing. It's just a question of how much money we lose. And how do you survive? How do we not die and have everyone lose their jobs."