Defiant Trump fires back at 'unfair' media in speech to Coast Guard graduates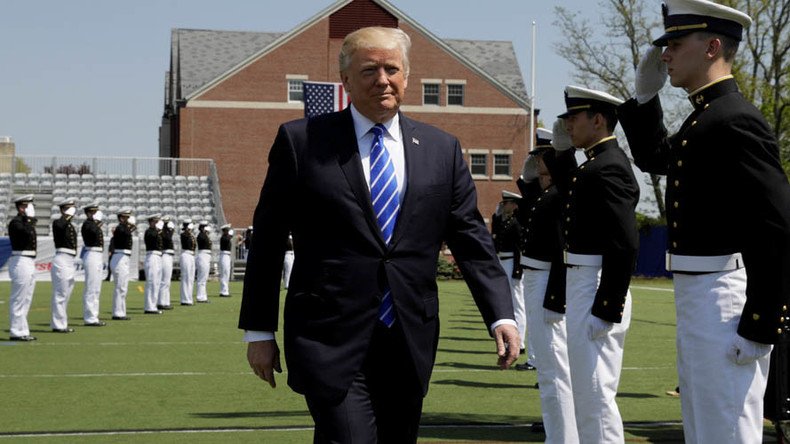 President Donald Trump sounded a defiant note to his critics, urging US Coast Guard Academy graduates to ignore naysayers and keep fighting for what is right. No politician in history has been treated more unfairly, Trump said, vowing to carry on.
"Look at the way I've been treated lately, especially by the media," Trump told the graduating class of the US Coast Guard Academy in New London, Connecticut on Wednesday. "No politician in history… has been treated worse or more unfairly."
The president told cadets that adversity makes them stronger, and that nothing worth doing was ever easy.
"The more righteous your fight, the more opposition you'll face," Trump said. "You have to put your head down and fight, fight, fight. Never, ever, ever give up. Things are going to work out just fine."
"You can't let the critics and the naysayers get in the way of your dreams," he said, to cheers from the cadets.
The president's remarks came as the minority Democrats in the US House of Representatives called for his impeachment and a special committee to investigate allegations of Russian involvement in US elections, purported ties to Trump's campaign staff, and accusations that the White House attempted to shut down the ongoing investigations by firing acting Attorney General Sally Yates and FBI Director James Comey.
In addition, the Washington Post and the New York Times have accused Trump of divulging sensitive intelligence to Russian Foreign Minister Sergey Lavrov during their meeting in the Oval Office last week. The White House has refused the charges, saying that Trump's discussions were "wholly appropriate."
"The people understand what I'm doing, and that's the most important thing," Trump told the Coast Guard cadets. "I didn't get elected to serve the Washington media or special interests."
You can share this story on social media: