At least 2 dead as tornadoes pummel central US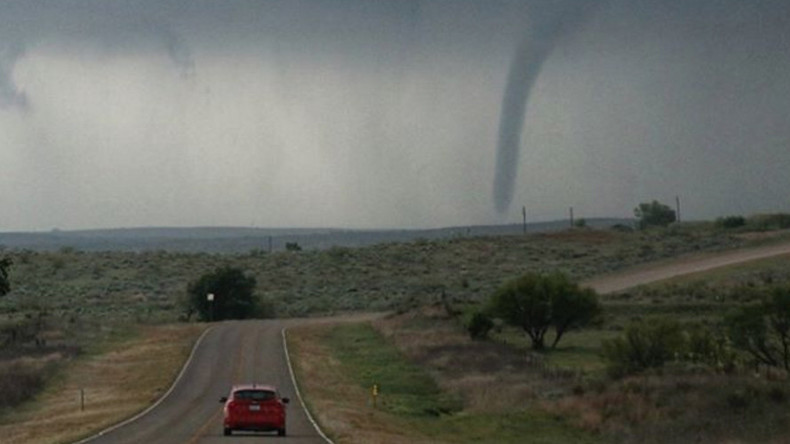 Two people were killed and dozens of others injured when more than a dozen tornadoes hit five states, flattening a mobile home park in Wisconsin and an Oklahoma housing block, according to the National Weather Service and fire and police officials.
The National Weather Service (NWS) said the storm started late Tuesday afternoon in Wisconsin into the evening, then tracked into the panhandle of Oklahoma and before heading to Kansas.
NWS meteorologist Rick Smith said the most damaging tornado was on the ground for five to 10 miles in the area of Elk City, Oklahoma.
Bo Mikles, 53, was killed fleeing his home when his vehicle was thrown several-hundred feet by the twister, according to the Elk City Fire Department chaplain, Danny Ringer, reported AP.
"My thoughts and prayers are with those affected by the tornado in Elk City," Gov. Mary Fallin tweeted.
Ringer told KOCO-TV that 40 homes were completely destroyed and another 50-70 homes sustained heavy damage, and multiple people were injured. Some people remain trapped in their homes.
The First Baptist Church of Elk City is open to give shelter to people affected by the storms, and is providing food and a comfort station.
"Our rapid response assessors are in Elk City and nearby storm-affected areas, and we are going to continue to follow the storms," Sam Porter, director of Oklahoma Baptist Disaster Relief, told KOCO-TV."We are ready to assist our neighbors in need in the name of Jesus."
Elk schools are closed on Wednesday.
In eastern Nebraska, winds damaged homes, farms and businesses and left thousands of people without electricity. Gusts of 85mph (135kph) were recorded at the weather service's office in Valley, west of Omaha.
The storms leveled the Prairie Lake Estate Mobile Park, about 110 miles northeast of Minneapolis, Wisconsin.
Mark Tyson and his wife Robin were huddled behind a living room chair when the storm hit. An entire wall of their mobile home suddenly came flying at them.
"I thought we were done," Tyson told AP.
Shards of glass were flying at them like bullets, Tyson told the Eau Claire Leader-Telegram.
At least one person, a 46-year-old male, was killed and an estimated 25 others were injured by a severe storm, including a tornado.
The twister struck at the trailer park along US 53 in the Barron County town of Prairie Lake, about midway between Chetek and Cameron.
Residents said the park had about 50 trailer homes, and at least two dozen were destroyed.
Robert Black, was standing outside his home watching the storm kick up when golf ball-size hail drove him inside. A short time later, while cooking supper with his wife, Black said the tornado picked the entire trailer about five foot off the ground before slamming it back on its foundation.
"The whole thing was over in about a minute – a minute of terror," Black told the Leader-Telegram. "But for about 30 seconds, it sounded like a train was coming right through my trailer."
Black said he dug two elderly residents out from the 3 foot-high rubble that was left of their trailer home.
He and his wife, Shelly, tended to several injured trailer park residents, applying ice packs and cleaning up blood as best they could.
Black said a huge oak tree fell on top of all three of his cars.

"We're alive. That's the main thing," he said.
NSW's Smith said another round of severe storms is forecast Thursday and Friday.