Judge orders re-release of man mistakenly set free from prison 90 years early
Published time: 17 May, 2017 04:26
Edited time: 18 May, 2017 06:26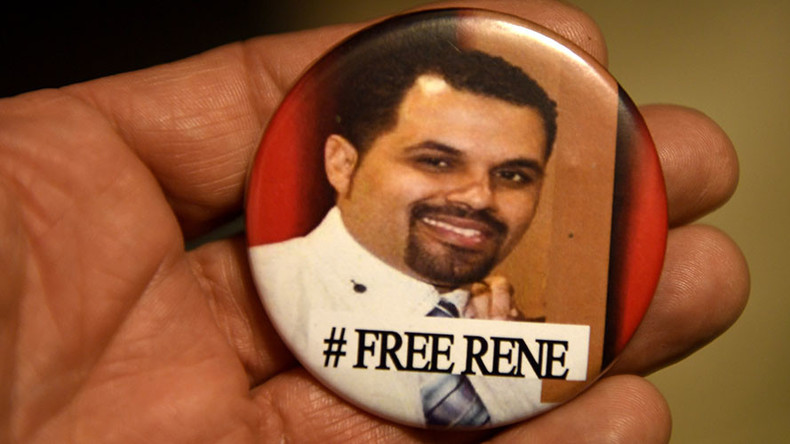 A Colorado man, sentenced to 98 years in prison, then mistakenly released from prison 90 years early only to be thrown back in jail after the state realized its mistake, was finally set free by a Denver judge.
On Tuesday, Rene Lima-Marin, 38, was ordered to be released from prison after Arapahoe County Chief District Judge Carlos Samour ruled that his re-incarceration was "utterly unjust."
"Requiring Lima-Marin to serve the rest of his prison sentence all these years later would be draconian, would deprive him of substantive due process, and would perpetrate a manifest injustice," Samour wrote, according to the decision obtained by the Denver Post. "Because the Court finds that Lima-Marin is being unlawfully detained, he is ordered released. No other remedy will result in justice in this case."
In 1998, Lima-Marin and his friend, Michael Clifton, robbed two video stores at gunpoint. Two years later, they were convicted on multiple counts of robbery, kidnapping and burglary. Due to a clerical error, the eight different sentences were listed as consecutive instead of concurrent, giving them each a total sentence of 98 years in prison.
The error was changed for Clifton on appeal, but Lima-Marin's public defender advised him not to appeal, and his sentence remained the same.
Lima-Marin was 19 years old at the time he committed the crimes. His parole eligibility date was scheduled for 2053.
"People have raped, molested kids, taken lives, and have 15, 20, 25 years. And I made a mistake and tried to steal some money and I am given my entire life in prison," Lima-Marin said, according to KDVR.
After serving eight years of his sentence, Lima-Marin was paroled in 2008. He got married, fathered two children and got a steady job after a series of low-wage jobs that would accept a felon. Then, after nearly six years, the authorities discovered the mistake and police returned him to prison to serve the rest of his sentence in 2014.
"I've been taken away from my children and my wife. I don't even know how to explain that that's the thing that's consistently on my mind every single day," Lima-Marin said at a hearing last year, according to the Denver Post. "I'm supposed to be the head of my household, I'm the person … I'm the person that's supposed to guide and lead them of everything that's of God, and I've been taken away from them."
On May 4, Colorado lawmakers unanimously passed a resolution urging Governor John Hickenlooper to grant Lima-Marin clemency. The resolutions describes Lima-Marin as a "model citizen" during his parole, saying that he "maintained a spotless record, fulfilling all the terms of the parole without incident and overcoming the many obstacles the formerly incarcerated face when reentering society."
When he was told that he had to return to prison, the resolution states that Lima-Marin "surrendered to authorities of his own volition rather than evade capture, a strong testament to his honesty and moral conviction."
With his decision on Tuesday, Samour ruled that Lima-Marin should be set free, saying that "although most of Lima-Marin's sentence remains unserved, he has sufficiently paid his debt to society."
"At the end of the day, the Court concludes that it would be utterly unjust to compel Lima-Marin, at this juncture, to serve the rest of his extremely long sentence," Samour wrote in his court order. "The government - not Lima-Marin, his family, the community, and society - should bear the brunt of the consequences of its conscience-shocking deliberate indifference."