Fire that destroyed historic New York synagogue 'suspicious' – police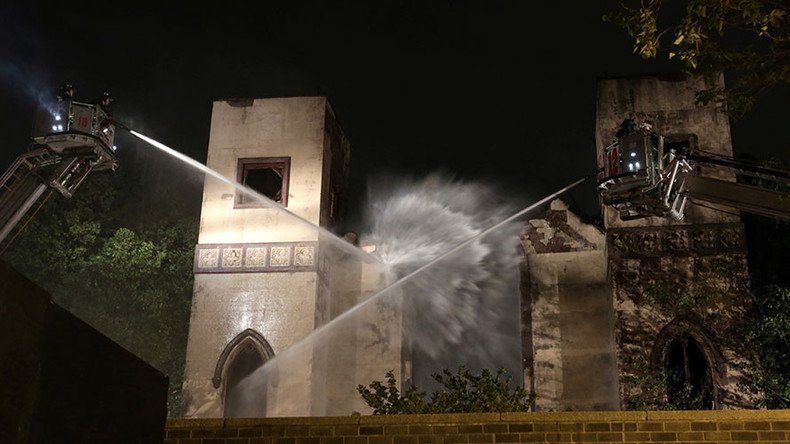 Surveillance video shows three young people running away from the area near the historic New York synagogue that caught fire Sunday and largely destroyed the building, according to police. The fire took 100 firefighters to extinguish.
"We see kids running from the area — we don't know if they were inside, we don't know if they were responsible for the fire," Deputy Inspector Steve Hellman told DNAinfo about what can be seen on the surveillance footage.

"It is still under investigation, but it does seem suspicious due to the fact we saw individuals in the proximity possibly [around] the time of the fire," he added.
The New York Fire Department will ultimately determine the cause of the fire, he added.
The FDNY is continuing to search the site for any possible victims, although no missing persons have been reported.
The synagogue, Beth Hamedrash Hagadol, was the first house of worship to serve East European Jewish immigrants on the Lower East Side in New York City. Built in 1850, the synagogue was landmarked in 1967 but has been vacant for roughly a decade. It is known that people have been coming and going from the building.
Rabbi Mendel Greenbaum, who has headed the synagogue for about 30 years, said all Torahs, religious scrolls and artifacts were safe and not inside the building at the time of the fire. They have been stored in Brooklyn, he said, since the building shut its doors.
The building closed in 2007 because membership had dwindled, the rabbi said.
"Everybody's in shock," Greenbaum, whose father-in-law was rabbi for many decades before him told the Lo-Down.
"I had to hold on not to collapse," he added, about hearing the news of the fire. "For us, besides a community tragedy, it's a personal family tragedy as well."


The ceiling and walls of the synagogue came crashing down onto the first floor of the building, burying it under 15 feet of rubble, according to FDNY Assistant Chief Roger Sakowich.
The enormous blaze broke out shortly before 7pm Sunday evening and was brought under control around midnight by more than 100 firefighters, according to FDNY. Two firefighters suffered minor injuries.
Sakowich said the fire remains under investigation but that information the department has gathered so far indicates the fire started inside the building.
You can share this story on social media: