Heavy police presence as 2nd Confederate monument removed in New Orleans
Published time: 11 May, 2017 21:44
Edited time: 12 May, 2017 09:29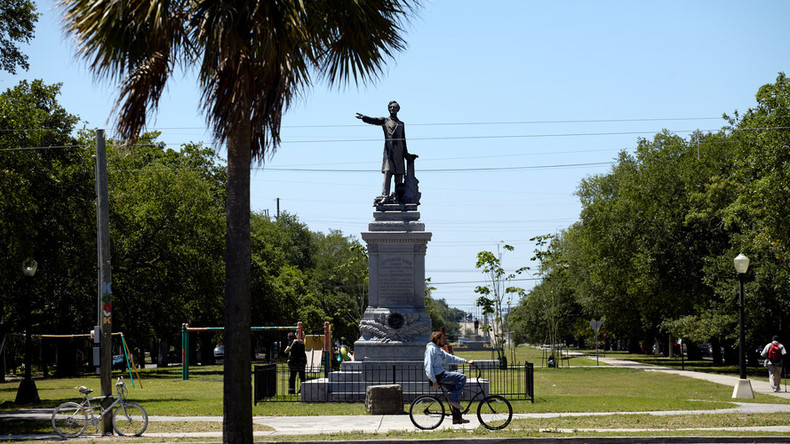 Workers wearing bulletproof vests and helmets have removed the statue of Confederate President Jefferson Davis from its pedestal before dawn in New Orleans. About 50 police kept watch on dozens of protesters backing and opposing its removal.
Workers with covered faces wrapped the sculpture of Davis in green bubble wrap and placed a harness attached to a crane around the statue, according to AP.
The statuette has stood in its location for 106 years. Davis was the president of the Confederate States during the US Civil War, and a prosperous farmer with a cotton plantation and owned 74 slaves.
In 2004, three confederate statues were attacked with graffiti. "Slave Owner" was scrawled in red paint on Davis' statue.
Opposing protesters were separated by metal barriers set up by police and heckled each other from opposite sides of the barricades.
Cheers went up from the crowd as the figure of Davis was removed from the granite pedestal roughly 15 feet high.
It was lowered on trucks and out of view of the media who had gathered on the scene.
As the statue was lifted shortly after 5:00 am, those who wanted it removed cheered and sang the chorus from "Na Na Hey Hey Kiss Him Goodbye." One person held a sign that read, "Bout Time," according to CNN.
Supporters of the monument watched mostly in silence, some holding up Confederate banners. Earlier, some chanted, "President Davis," with one man even saluting the statue.
The statue was the second of four Confederate monuments the city has slated for removal in a controversial act that has sparked protests on both sides.
New Orleans City Council, now majority African-American, voted 6-1 to remove the four landmarks in 2015. The move came as part of a national response to the shooting of nine black parishioners at a church in South Carolina by racist Dylann Roof earlier that year.
It was New Orleans Mayor Mitch Landrieu who first urged the council to remove the memorials.
"These monuments have stood not as historic or educational markets of our legacy of slavery and segregation but in celebration of it," said Landrieu in a press release. "I believe we must remember all of our history, but we need not revere it… We should not be afraid to confront and reconcile our past."
Last month, the first structure, a 35-foot-tall obelisk known as the Liberty monument was removed by masked workers under cover of darkness. The obelisk was in tribute to whites who battled the biracial Reconstruction government installed in New Orleans after the Civil War.
Over 700 people opposed to and in support of the removal of the Confederate figures attended a rally in New Orleans at Lee Circle on Sunday. Three people were arrested when a clash erupted.
The 60 foot Lee statue, in tribute to General Robert E. Lee, is another monument slated for removal, along with Confederate General P G T Beauregard on horseback which sits in the city's largest park.