Boeing's new 737 grounded over flaw in engine component
Published time: 11 May, 2017 19:38
Edited time: 12 May, 2017 09:27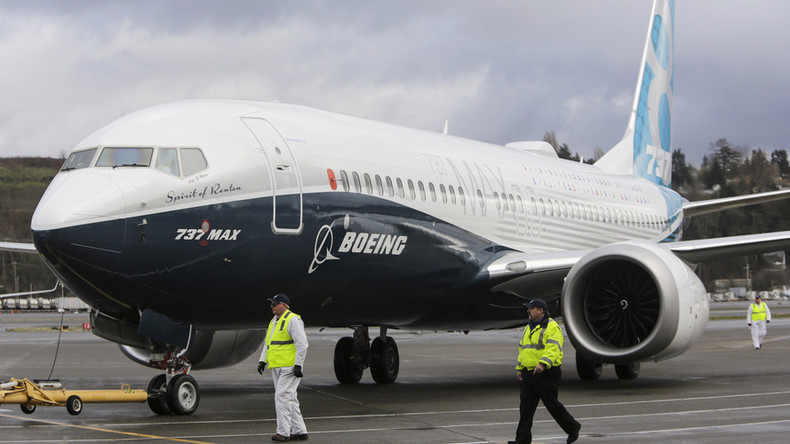 All test flights of Boeing's 737 MAX have been put on hold, pending a review of a flaw in an engine component. The aircraft is still on schedule for its first deliveries later this month the company said, as its shares slipped on the announcement.
Boeing grounded the fleet of about 20 airplanes after CFM International, which makes the 737 MAX's Leap-1B jet engine, discovered a defect in one engine part. CFM is a joint venture between General Electric (GE) and France's Safran.
An inspection last week discovered a defect in the large metal disc used in the low-pressure turbine at the rear of the engine, Reuters reported, citing CFM spokesman Jamie Jewell.
"There have been no issues whatsoever with engines in the field," Jewell said.
GE spokesman Rick Kennedy confirmed that the flawed disc had not been installed in an engine.
The approximately 40 engines that have been built so far will be sent back to factories in Lafayette, Indiana or Villaroche, France for inspection, Kennedy said. Many will need to be removed from aircraft first, said Jewell.
The 737 MAX is Boeing's fastest-selling plane, with over 3,700 preorders. The first deliveries were scheduled for later this month to Malaysia's Malindo Air. US-based Southwest and American Airlines have ordered 200 and 100 of the jets, respectively.
Boeing and CFM said they remained committed to meeting the delivery date while maintaining the production of the jet with no changes.
"We still plan to start deliveries this month. But there is no official date set yet. We're keeping all of our customers updated on the progress," said Boeing spokesman Doug Alder.
"This doesn't look like a serious concern," Cai von Rumohr, an analyst with financial services firm Cowen & Co, wrote to his clients, according to Canada's National Post. The engine problem is "not a design shortfall but what appears to be an easily fixable sub-tier supplier component issue."
The 737 MAX 8 seats 162 passengers in a typical configuration and has a list price of $110 million, Reuters reported.
According to Airways magazine, Norwegian Air Shuttle has plans to use the new jet for transatlantic service to the US from the UK and Ireland, starting in June.