US lawmakers meet Dalai Lama amid Trump shift to better US-China relations
Published time: 10 May, 2017 01:50
Edited time: 10 May, 2017 11:11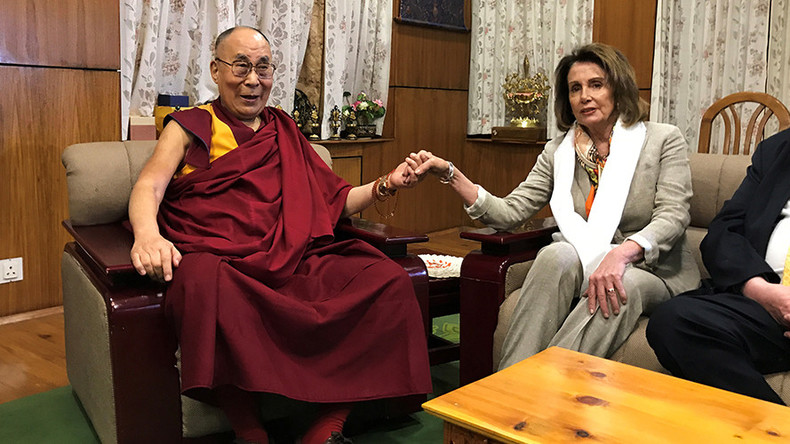 A US congressional delegation has met with the Dalai Lama during a trip to India, drawing attention to human rights in Tibet and the upcoming democratic elections in Nepal. President Donald Trump, meanwhile, is pursuing common ground with China.
House Minority Leader Nancy Pelosi (D-California) headed a bipartisan delegation of eight representatives who traveled to Dharamsala, India, for the two-day visit. The trip started with a meeting with the spiritual leader of Tibet at his residence on the 70th anniversary of US-Nepal relations.
"As we visit His Holiness the Dalai Lama, our bipartisan delegation comes in his spirit of faith and peace," Pelosi said, according to Reuters. "We come on this visit to be inspired by His Holiness and demonstrate our commitment to the Tibetan people, to their faith, their culture and their language."
The Dalai Lama was forced to flee Tibet and has been living in India after an unsuccessful uprising in 1959. After fleeing to India, the Dalai Lama and others set up a government in exile, where they continue to fight for autonomy for Tibet.
"This is my home," the Dalai Lama said, welcoming the delegation, according to Reuters. He then corrected himself, saying, "This is my second home. My real home – other side."
The Dalai Lama said that he would be willing to visit China, but has not been able to because the government considers him a dangerous separatist.
The US has long recognized Tibet as a part of the People's Republic of China, and does not support their independence. However, every US president since George H.W. Bush has met with the Dalai Lama while in office. However, a meeting between Trump and the Nobel Peace Prize recipient scheduled for April was postponed.
Last month, after Trump and Chinese President Xi Jinping met at Mar-a-Lago to discuss the relationship between the two nations, Trump took a softer tone on China. He has asked China to help the US rein in North Korea's nuclear weapons program and also seeks to lower the US trade deficit.
Matteo Mecacci, president of the International Campaign for Tibet, says the delegation's visit "sends a strong message to the Tibetan people that Pelosi and the United States Congress care deeply about Tibet."
"It also reminds China that as long as the Tibetan issue remains unresolved, the international community will continue to put the spotlight on it," Mecacci added, according to the International Campaign for Tibet.
The delegation also met with Nepalese President Bidhya Devi Bhandari and Prime Minister Pushpa Kama Dahal in Kathmandu on Monday to discuss the upcoming elections, scheduled for May 14.
"There are a lot of disagreements between the parties in Congress, but support for Nepal is not one of them," said Congressman Jim Sensenbrenner (R-Wisconsin) who is co-leading the bipartisan delegation.
"This delegation shows there is bipartisan support for Nepal in the Congress and for the continued steps toward democracy that are being taken here," Sensenbrenner continued.
After India, the delegation will make stops in Germany and Belgium. The focus of the trip was focused on "national security, the global economy, bilateral and multilateral relations, and human rights," according to a press release from Pelosi's office.
The eight representatives who made the trip were Pelosi, Sensenbrenner, Eliot Engel (D-New York), Betty McCollum (D-Minnesota), Judy Chu (D-California), Joyce Beatty (D-Ohio), Pramila Jayapal (D-Washington) and Jim McGovern (D-Massachusetts).
In April, McGovern co-sponsored bipartisan legislation to open travel to Tibet, where access is often denied by Chinese authorities.
While the Chinese government currently states that Tibet is open to foreign visitors, they require foreigners to obtain permission from the Tibet Foreign and Overseas Affairs Office or the Tibet Tourism Bureau to travel to the Tibet Autonomous Region, a requirement that is not imposed on travel to any other area in China.